Best of Today (7/14)
Hey! My friend's account was hacked! At Hotmail, we know that account hijacking is a big problem, and we continue to work hard to prevent it.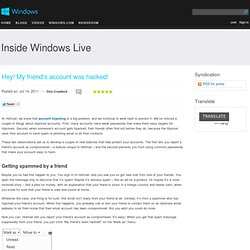 We've noticed a couple of things about hijacked accounts. First, many accounts have weak passwords that make them easy targets for hijackers. DoD: 24,000 files swiped in March from military contractor systems. Department of Defense Deputy Secretary William Lynn said that 24,000 files were taken in March from military contractor systems.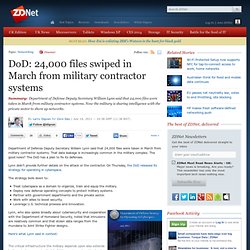 That data leakage is increasingly common in the military complex. The good news? The DoD has a plan to fix its defenses. Lynn didn't provide further details on the attack or the contractor. How do people look at Apple's movie trailers page? | GazeHawk Blog. Apple Trailers just begs to be eye tracked.
Two weeks ago, we started an eye-tracking study of Apple's iTunes movie trailers site. Originally, we had hoped to do a demographic breakdown of the study results — what posters did men like, what posters did women like, that sort of thing. However, the only statistically significant finding we were able to pull out was that people under 30 looked at ads longer than people over 30 — hardly groundbreaking. So we set at analyzing the data from the perspective of the posters themselves.
Manning-Lamo Chat Logs Revealed | Threat Level. A little more than a year ago, Wired.com published excerpts from instant messenger chats between accused WikiLeaks source Bradley Manning and Adrian Lamo, the ex-hacker in whom he confided and who reported him to the authorities.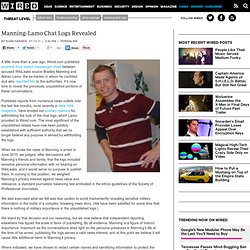 It's now time to reveal the previously unpublished portions of these conversations. Published reports from numerous news outlets over the last few months, most recently in New York magazine, have eroded our primary reasons for withholding the bulk of the chat logs, which Lamo provided to Wired.com. The most significant of the unpublished details have now been publicly established with sufficient authority that we no longer believe any purpose is served by withholding the logs. Spotify: A Beginner's Guide - TNW Media. The day has come and Spotify has finally launched in the US.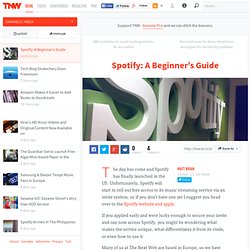 Unfortunately, Spotify will start to roll out free access to its music streaming service via an invite system, so if you don't have one yet I suggest you head over to the Spotify website and apply. If you applied early and were lucky enough to secure your invite and can now access Spotify, you might be wondering what makes the service unique, what differentiates it from its rivals, or even how to use it. Many of us at The Next Web are based in Europe, so we have had access to Spotify for nearly two years. Showdown: Spotify vs. Rdio vs. Grooveshark vs. Pandora - TNW Apps. Music speaks what cannot be expressed, soothes the mind and gives it rest, heals the heart and makes it whole, flows from heaven to the soul.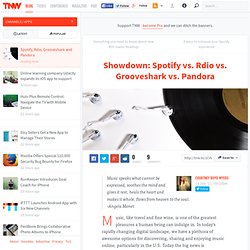 -Angela Monet Music, like travel and fine wine, is one of the greatest pleasures a human being can indulge in. In today's rapidly changing digital landscape, we have a plethora of awesome options for discovering, sharing and enjoying music online, particularly in the U.S. Today the big news is that Spotify, the all-you-can-eat buffet of musical tunage, has officially launched in the U.S. Spotify: The Unicorn Has Landed... Posted by Tom Foremski - July 14, 2011 Last week RDIO CEO Drew Larner called Spotify a "unicorn" because so many people have spoken about its imminent launch but no one has seen it.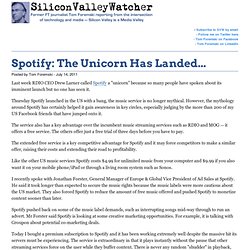 Thursday Spotify launched in the US with a bang, the music service is no longer mythical. However, the mythology around Spotify has certainly helped it gain awareness in key circles, especially judging by the more than 200 of my US Facebook friends that have jumped onto it. Microsoft will Never Drop the Windows Brand Name | Lance Ulanoff.
Microsoft is not giving up the Windows brand name.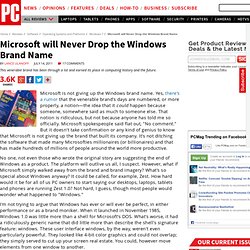 Yes, there's a rumor that the venerable brand's days are numbered, or more properly, a notion—the idea that it could happen because someone, somewhere said as much to someone else. That notion is ridiculous, but not because anyone has told me so officially. Microsoft spokespeople said flat out, "No comment. " But it doesn't take confirmation or any kind of genius to know that Microsoft is not giving up the brand that built its company. It's not ditching the software that made many Microsofties millionaires (or billionaires) and that has made hundreds of millions of people around the world more productive. One big Windows world. It's coming, but when and how? For months, rumors have been circulating that Microsoft was poised to make its "Windows Everywhere" world a reality.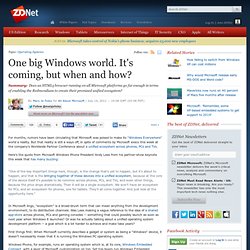 But that reality is still a ways off, in spite of comments by Microsoft execs this week at the company's Worldwide Partner Conference about a unified ecosystem across phones, PCs and TVs. Here's the quote from Microsoft Windows Phone President Andy Lees from his partner-show keynote this week that has many buzzing: "One of the key important things here, though, is the change that's yet to happen, but it's about to happen, and that is the bringing together of these devices into a unified ecosystem, because at the core of the device itself it's possible to be common across phones, PCs, and TVs, and even other things, because the price drops dramatically.
The Problem With Silicon Valley Is Itself - Entrepreneur. As a Brit who gave up cheerleading the European tech scene to make the pilgrimage to Silicon Valley to live, eat and breath the world's leading hub for technology startup innovation, I've been largely unimpressed and disappointed by the quality of startups here.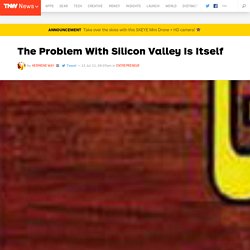 Living in San Francisco since January, I've interviewed around two hundred startups and there's only two, out of two hundred, I think are game changers. Now, don't get me wrong, Silicon Valley is an incredibly inspiring place to be. Everyone is doing something amazing and trying to change the world, but in reality much of the technology being built here is not changing the world at all, it's short-sighted and designed for scalability, big exits and big profits. The iPhone's Home Button. When I posted the link to Andrew Durdin's visual guide to the iPhone's home button, a number of people sent me messages that basically said «I don't see the problem». Here's just one problem caused by overloading the iPhone's home button. Let's say I'm in Safari, and I want to launch another app. Twitter drives 4 times as much traffic as you think it does | awe.sm: the blog.
Over the last few weeks, TechCrunch has run a couple posts using their own referrer logs to measure how sharing on various social services drives traffic. In these and other analyses based solely on referrer information, Twitter performs surprisingly poorly relative to expectations many of us have based on our own observations of the volume of link sharing on Twitter. Does that mean the people you follow on Twitter who share links all the time are that atypical? Do most normal people just not click on links in Tweets? Is LinkedIn far more popular with the rest of the world than it seems to be with the people you know? What Google's Famous Cafeterias Can Teach Us About Health - Life.
A visit to the tech giant's headquarters reveals smart nutrition labeling and vending machines where healthier items are cheaper I'm just back from judging Google's first Science Fair for kids 13 to 18 at its corporate headquarters in California (yes, those are tomatoes growing in the foreground). Google's famous food program. Google Plus: How Fast Is Google's New Social Network Growing? Facebook has over 750 million users. More than 200 million Twitter accounts have been created. So just how big is Google Plus, the social network Google launched to the public on June 28, 2011? Tech Boom Drives Turnover at Popular San Francisco Address.
---