Best of the day (6/27)
Villagers with Pitchforks : Did Recession Breed the New Blogger? In December 2007, the US economy was at its worst as unemployment was at an all time high, the federal debt crisis became shockingly real, and home foreclosures were an epidemic across the nation.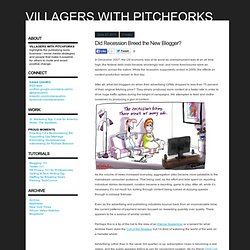 While the recession supposedly ended in 2009, the effects on content production remain to this day. After all, what did bloggers do when their advertising CPMs dropped to less than 75 percent of their original fetching price? They simply produced more content at a faster rate in order to drive huge traffic spikes during the height of campaigns. We attempted to feed and clothe ourselves by producing a glut of content. As the volume of news increased everyday, aggregation sites became more palatable to the mainstream consumer audience. Firefox update policy: the enterprise is wrong, not Mozilla.
Three months ago, Mozilla released the long-awaited Firefox 4.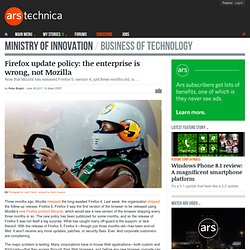 Last week, the organization shipped the follow-up release: Firefox 5. Firefox 5 was the first version of the browser to be released using Mozilla's new Firefox product lifecycle, which would see a new version of the browser shipping every three months or so. The new policy has been publicized for some months, and so the release of Firefox 5 was not itself a big surprise. What has caught many off-guard is the support, or lack thereof. With the release of Firefox 5, Firefox 4—though just three months old—has been end-of-lifed. E-Reader Ownership Doubled in 6 Months, Growing Faster than Tablets. Ownership of e-readers is exploding, according to a survey by Pew Internet Research.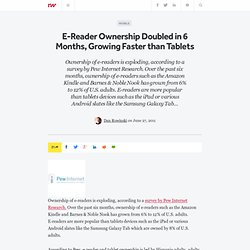 Over the past six months, ownership of e-readers such as the Amazon Kindle and Barnes & Noble Nook has grown from 6% to 12% of U.S. adults. E-readers are more popular than tablets devices such as the iPad or various Android slates like the Samsung Galaxy Tab which are owned by 8% of U.S. adults. According to Pew, e-reader and tablet ownership is led by Hispanic adults, adults younger than the age of 65, parents of children below the age of 18, college graduates and households with and income of at least $75,000.
While the Pew research is an interesting look in to the state of the mobile reader market now, it is important to note the timing of the survey and movement of the market to distinguish actual digital trends. The six-month window of the survey was between Nov. 2010 and May 2011. Bing Maps Unveils Exclusive High Res Imagery with Global Ortho Project - Search Blog - Site Blogs - Bing Community. Google's War on Nonsense. Imagine a sci-fi universe in which every letter, word and sentence is a commodity.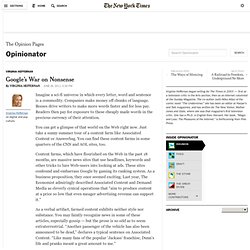 Companies make money off chunks of language. Bosses drive writers to make more words faster and for less pay. Readers then pay for exposure to these cheaply made words in the precious currency of their attention. You can get a glimpse of that world on the Web right now. Just take a sunny summer tour of a content farm like Associated Content or Answerbag. LulzSec Hacker Group Urges New Cyberattacks. But security experts said on Sunday that the dissolution of the group might not signal an end to the attacks, which have hit dozens of Web sites, including those of prominent targets like the Central Intelligence Agency, the United States Senate, the Arizona state police and Sony.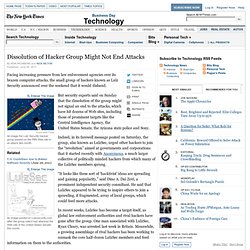 Indeed, in its farewell message posted on Saturday, the group, also known as LulzSec, urged other hackers to join the "revolution" aimed at governments and corporations that it started recently with , a much larger collective of politically minded hackers from which many of the LulzSec members sprung. "It looks like these sort of 'hacktivist' ideas are spreading and gaining popularity," said Dino A.
Dai Zovi, a prominent independent security consultant. Report: Apple is building two (!) iPhones for September release. An analyst expects Apple to launch both an iPhone 5 and a mid-range iPhone 4S Click to enlarge.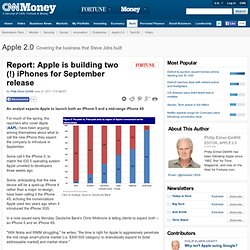 Source: Deutsche Bank For much of the spring, the reporters who cover Apple (AAPL) have been arguing among themselves about what to call the new iPhone they expect the company to introduce in September. New Service Adds Your Drunken Facebook Photos To Employer Background Checks, For Up To Seven Years. You Can't Make Money Charging $1 Per Month. If you're trying to grow your startup you've come to the right place.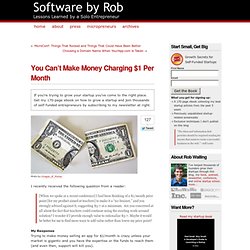 Get my 170-page ebook on how to grow a startup and join thousands of self-funded entrepreneurs by subscribing to my newsletter at right. Photo by Images_of_Money I recently received the following question from a reader: [When we spoke at a recent conference] I had been thinking of a $1/month price point [for my product aimed at teachers] to make it a "no-brainer," and you strongly advised against it, suggesting $5-7 at a minimum. Are you concerned at all about the fact that teachers could continue using the existing work-around solution? Groupon May Expire Sooner Than Expected. The more I read about Groupon (GRPN) and its hyper-growth and rapid expansion, the more I kept thinking the story sounded familiar, like someone I know had lived through it before ... and then I realized that someone was me.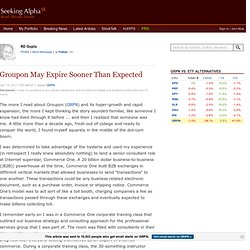 A little more than a decade ago, fresh out of college and ready to conquer the world, I found myself squarely in the middle of the dot-com boom. I was determined to take advantage of the hysteria and used my experience (in retrospect I really knew absolutely nothing) to land a senior consultant role at Internet superstar, Commerce One. A 20 billion dollar business-to-business ((B2B)) powerhouse at the time, Commerce One built B2B exchanges in different vertical markets that allowed businesses to send "transactions" to one another. An Open Letter to LivingSocial: Learn from Groupon's International Mistakes. Another day, another unfortunate piece of news out of Groupon's international operations.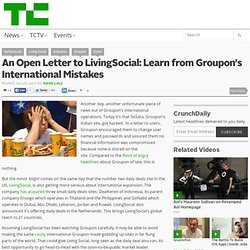 Today it's that SoSata, Groupon's Indian site, got hacked. In a letter to users, Groupon encouraged them to change user names and passwords and assured them no financial information was compromised because none is stored on the site. Compared to the flood of angry headlines about Groupon of late, this is nothing.
---