SocialNetwokAnalysis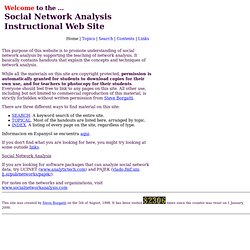 This purpose of this website is to promote understanding of social network analysis by supporting the teaching of network analysis. It basically contains handouts that explain the concepts and techniques of network analysis. While all the materials on this site are copyright protected, permission is automatically granted for students to download copies for their own use, and for teachers to photocopy for their students . Everyone should feel free to link to any pages on this site. All other use, including but not limited to commercial reproduction of this material, is strictly forbidden without written permission from Steve Borgatti .
Social Network Analysis Instructional Web Site -- Steve Borgatti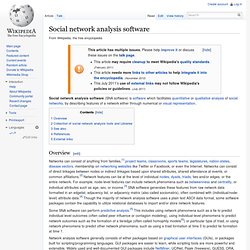 Social network analysis software (SNA software) facilitates quantitative or qualitative analysis of social networks , by describing features of a network either through numerical or visual representation. [ edit ] Overview Networks can consist of anything from families, [ 1 ] project teams, classrooms, sports teams, legislatures, nation-states, disease vectors, membership on networking websites like Twitter or Facebook, or even the Internet. Network features can be at the level of individual nodes, dyads, triads, ties and/or edges, or the entire network.
Facebook Mutual Friend Network Visualization in Flash | danielmclaren.net
Social Network Analysis, Link Analysis, and Visualization Software
Network Overview Discovery and Exploration for Excel 2007/2010 NodeXL provides support for social network analysis in the context of a spreadsheet. See: http://www.codeplex.com/nodexl NodeXL is a project from the Social Media Research Foundation and is a collaboration among: NodeXL is the free and open add-in for Excel that supports network overview, discovery and exploration. The code and application can be found at http://www.codeplex.com/nodexl .