G2
Below is a complete list of movies within this site Spray diagrams What are spray diagrams? Drawing spray diagrams Quiz Diagram guidelines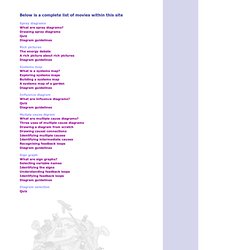 main
Hints and tips for doing it right (tom@tripledogdaremedia.com)Co-founder, Triple Dog Dare Media 01 Oct 2002 Conducting a competitive analysis is an important part of the job if you're a usability engineer or information architect. A good competitive analysis not only produces usability metrics but also aids decision makers in their strategic goal-setting and planning. Done right, a good competitive analysis can steer a Web development project in the right direction. The day will come when you're sitting happily at your desk and someone from marketing or business development will come into your office and ask you to do a competitive analysis for them.
How to conduct a Web site competitive analysis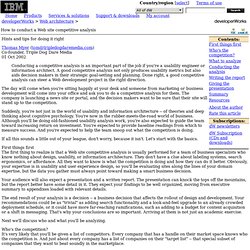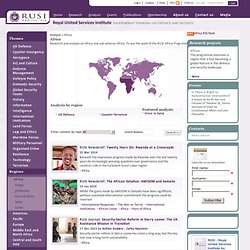 Africa
Royal United Services Institute for Defence and Security Studies Follow us on Africa RSS feed
1. Bridging the Gap Between Scholarship and Practice 2. Describing Intelligence Analysis 3. Improving the Science of Intelligence Analysis 4. Improving the Art of Intelligence Analysis 5. Improving Intelligence Analysis with Analytic Teams 6.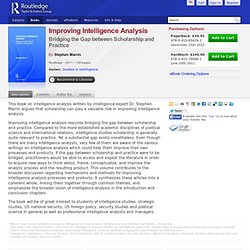 Improving Intelligence Analysis: Bridging the Gap between Scholarship and Practice
Evaluating Internet information
Top Ten Argument Mapping Tutorials. Six online tutorials in argument mapping, a core requirement for advanced critical thinking.The Skeptic's Dictionary - over 400 definitions and essays. The Fallacy Files by Gary Curtis.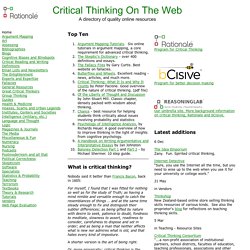 Crime and Intelligence Analysis Training Ltd
What They Don't Teach in Detective School « The Confidential Resource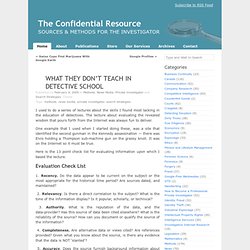 I used to do a series of lectures about the skills I found most lacking in the education of detectives. The lecture about evaluating the revealed wisdom that pours forth from the Internet was always fun to deliver. One example that I used when I started doing these, was a site that identified the second gunman in the Kennedy assassination — there was Elvis holding a Thompson sub-machine gun on the grassy knoll.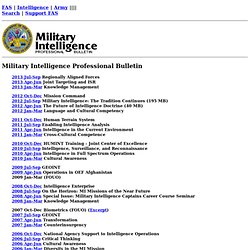 2013 Jul-Sep Regionally Aligned Forces2013 Apr-Jun Joint Targeting and ISR2013 Jan-Mar Knowledge Management 2012 Oct-Dec Mission Command2012 Jul-Sep Military Intelligence: The Tradition Continues (195 MB)2012 Apr-Jun The Future of Intelligence Doctrine (40 MB)2012 Jan-Mar Language and Cultural Competency 2011 Oct-Dec Human Terrain System2011 Jul-Sep Enabling Intelligence Analysis2011 Apr-Jun Intelligence in the Current Environment2011 Jan-Mar Cross-Cultural Competence
Military Intelligence Professional Bulletin
OSS.Net, Inc. Home Page
The wrong model for the war on terror The controversy surrounding the American pre-war intelligence assessment of Iraq's weapons of mass destruction programs dominates the airwaves and print media. Behind-the-scenes investigations spawned by the Iraq performance as well as the tragedies of September 11, 2001 offer a fleeting window of opportunity to chart and implement much-needed reforms of a beleaguered intelligence community. The intelligence community's failure to warn with the clarity needed to disrupt the conspiracy of September 11 and its less-than-stellar performance in assessing Iraqi wmd programs highlight both the dangers to security and the demands for strategic intelligence in the twenty-first century. The community can hardly be trusted to do an honest and balanced critique of its performance in the wake of these events. It comprises numerous intelligence agencies, each with its own set of entrenched interests.
Intelligence Failures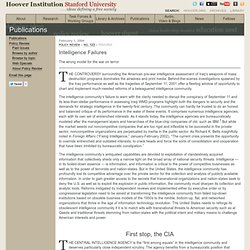 Open Source Intelligence OSINT
We need to rethink the distinction between open sources and secrets. Too many policymakers and intelligence officers mistake secrecy for intelligence and assume that information covertly acquired is superior to that obtained openly. Yet, the distinction between overt and covert sources is less clear than such thinking suggests.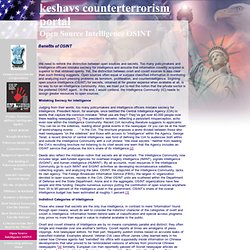 Criminal Justice MegaLinks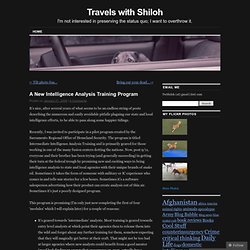 It's nice, after several years of what seems to be an endless string of posts describing the numerous and easily avoidable pitfalls plaguing our state and local intelligence efforts, to be able to pass along some happier tidings. Recently, I was invited to participate in a pilot program created by the Sacramento Regional Office of Homeland Security. The program is titled Intermediate Intelligence Analysis Training and is primarily geared for those working in one of the many fusion centers dotting the nations. Now, post 9/11, everyone and their brother has been trying (and generally succeeding) in getting their turn at the federal trough by promising new and exciting ways to bring intelligence analysis to state and local agencies with their unique brands of snake oil. Sometimes it takes the form of someone with military or IC experience who comes in and tells war stories for a few hours.
A New Intelligence Analysis Training Program | Travels with Shiloh
Indexer
This 125-hour intermediate analyst training program was developed following a nationwide fusion center analyst job task analysis and meetings with subject-matter experts from throughout the country. The program consists of four parts presented in either an online or classroom environment: Analysis and Terrorism Prevention (online) Critical Thinking and Analytic Techniques (classroom) Communication Skills and Analytic Writing (online) Strategic Analysis and Oral Briefings (classroom) Each part is presented in an active learning environment to engage the learner to acquire, comprehend, and demonstrate knowledge of the cognitive abilities required of analysts. The course builds upon the learners' basic analytic training to broaden their proactive role in the intelligence analysis process.
Intermediate Fusion Center Analyst Training Program (IFCAT) | Fusion Center Training
Critical Thinking and Intelligence Analysis
intelligenceanalysistraining.com
Intelligence Is The Future - Intelligence Applications & Analysis for Law Enforcement
links [Pajek Wiki]
The 5 Whys is an iterative question-asking technique used to explore the cause-and-effect relationships underlying a particular problem.[1] The primary goal of the technique is to determine the root cause of a defect or problem. (The "5" in the name derives from an empirical observation on the number of iterations typically required to resolve the problem.) Example[edit]
Attendance criteria Intelligence Managers, Higher Analysts, and any other analyst involved in producing strategic assessments or strategic analysis. Course aim
Crime Academy
Part 1 Part 2 Part 3 In my last post I focused primarily on how the course was presented. There were a number of other observations about the class that seem worthy of note.
Intelligence Analysis Training Review – Part 4 | Travels with Shiloh
Intelligence Analysis index
Analysis - CATN - ToC
Air War College Gateway to the Internet
Intelligence analysis - Mashpedia, the real-time encyclopedia
Certificate Programs: Crime and Intelligence Analysis Certificate