Twitter
Twitter Trending Topics Nederland
Jeroen Wollaars (wol)
So you think you know Twitter? But do you know how to archive tweets, set up an RSS feed of a Twitter stream or have private group chat? Here are some practical, technical tips to help you:
Even the young person who sends and receives hundreds of text messages per day is unlikely to think of them as acts of reading and writing. Most text messages, including mine, are delivered in casual code for humdrum purposes, a mode of expression that makes communication seem as automatic as breathing. Roy: coffee?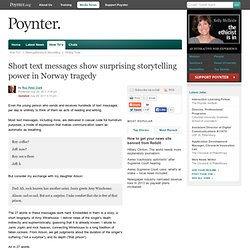 poynter
Snap Bird - search twitter's history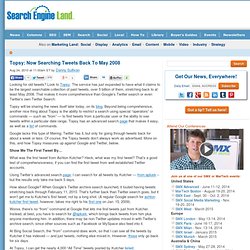 Looking for old tweets? Look to Topsy. The service has just expanded to have what it claims to be the largest searchable collection of past tweets, over 5 billion of them, stretching back to at least May 2008. That makes it more comprehensive than Google's Twitter search or even Twitter's own Twitter Search. Topsy will be sharing the news itself later today, on its blog.
Topsy: Now Searching Tweets Back To May 2008
Seek a Tweet
Eva_Jinek_1141279q.jpg (JPEG-afbeelding, 712x720 pixels)