Facebook
Today Facebook made a significant announcement: publishers can now publish content to the feeds of all people who liked a specific page. This is a significant step forward in the opening of Facebook Page functionality to the entire web. Also as part of the announcement, Facebook announced a minor, yet significant, upgrade that will convert all iFrame like buttons into share buttons as well. This is the second step of Facebook providing all pages on the internet with the same tools that all Facebook Pages have. For example, let's say you "like" this article. I will be able to send a news feed story to all Facebook users who liked that page.
HUGE: Facebook Lets Publishers Contact "Likers"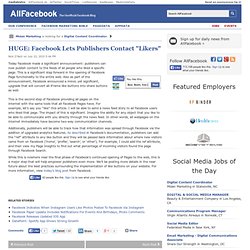 facebook nieuwsbron from:@mjk – Topsy Tweet Search
Ombudsman » Privacy: het gaat er niet alleen om dat je iets publiceert, maar waarom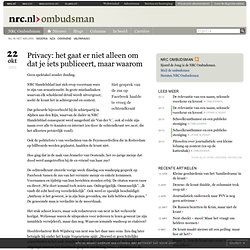 Geen spektakel zonder duiding. Het gesprek van de zus op Facebook haalde te vroeg de ochtendkrant NRC Handelsblad laat zich erop voorstaan wars te zijn van sensatiezucht. In grote misdaadzaken waarvan elk schokkend detail wordt uitvergroot, zoekt de krant het in achtergrond en context. Dat gebeurde bijvoorbeeld bij de schietpartij in Alphen aan den Rijn, waarvan de dader in NRC Handelsblad consequent werd aangeduid als 'Van der V.', ook al rolde zijn naam over alle tv-kanalen en internet (en door de ochtendkrant nrc.next, die het afkorten potsierlijk vond).
Zoeken naar mensen en hun inhoud - Facebook Helpcentrum
Occupy Amsterdam
Journalists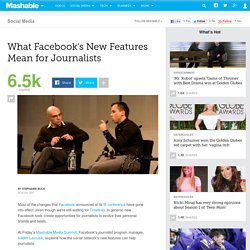 Most of the changes that Facebook announced at its f8 conference have gone into effect (even though we're still waiting for Timeline). In general, new Facebook tools create opportunities for journalists to evolve their personal brands and beats. At Friday's Mashable Media Summit, Facebook's journalist program manager, Vadim Lavrusik, explains how the social network's new features can help journalists. "Profiles and subscribe are going to be the most useful for journalists that are posting as themselves," says Lavrusik. He suggests these users review their profile settings if they plan to start using Facebook publicly.
What Facebook's New Features Mean for Journalists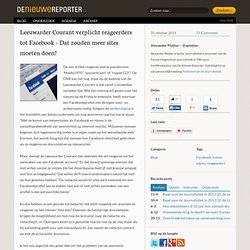 Op een artikel reageren met je pseudoniem 'Moeke1970′, 'oproerkraaiii' of 'ropper123′? Op DNR kan het nog, maar op de website van de Leeuwarder Courant is dat vanaf 1 november verleden tijd. Wie zijn mening wil geven over het nieuws op de Friese krantensite, heeft voortaan een Facebookprofiel met de eigen voor- en achternaam nodig. Volgens de aankondiging is het inmiddels een beetje ouderwets om nog anonieme reacties toe te staan: "Met de komst van netwerksites als Facebook en Hyves is de vanzelfsprekendheid van anonimiteit op internet voorbij. Miljoenen mensen begeven zich tegenwoordig onder hun eigen naam op het wereldwijde web."
Leeuwarder Courant verplicht reageerders tot Facebook – Dat zouden meer sites moeten doen? | De nieuwe reporter
In recent weeks, Facebook has been wrangling with the Federal Trade Commission over whether the social media website is violating users' privacy by making public too much of their personal information. Far more quietly, another debate is brewing over a different side of online privacy: what Facebook is learning about those who visit its website. Facebook officials are now acknowledging that the social media giant has been able to create a running log of the web pages that each of its 800 million or so members has visited during the previous 90 days. Facebook also keeps close track of where millions more non-members of the social network go on the Web, after they visit a Facebook web page for any reason. STORY: Facebook targeted with porn, violent images