Kit
Results for Fab@Home
Inc - RapMan 3.1 3D Printer Kit
3 D L P rint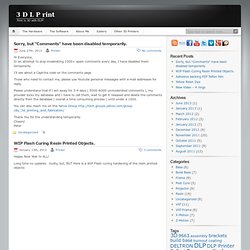 Sorry, but "Comments" have been disabled temporarily. Hi Everyone, In an attempt to stop moderating 1000+ spam comments every day, I have disabled them temporarily. I'll see about a Captcha code on the comments page. Those who need to contact me, please use Youtube personal messages with e-mail addresses for reply. Please understand that if I am away for 3-4 days ( 5000-6000 unmoderated comments ), my provider locks my database and I have to call them, wait to get it released and delete the comments directly from the database ( overall a time consuming process ) until under a 1000.
Education We welcome enquiries from educational establishments and local Authorities. We are preferred suppliers for Schools, Colleges and Universities in the UK, France, Germany, Austria, Switzerland, Italy, Spain, Portugal, USA, New Zealand and Australia. Educational packages now available! Contact us for more details Customer Feedback
The HP Designjet 3D Printing Series brings quality 3D printing right into your office. This range of 3D printers enables the creation of precise, durable plastic models that enable you to evaluate form, fit, and function right at your desk. These 3D printers produce high quality models and prototypes that are true to your original design and get a fast return on Investment thanks to a compelling acquisition price with low operating cost.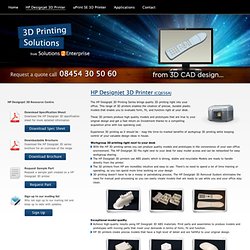 HP 3d printing – ABS Plastic Models 3D Printer Prototypes
Origo a 3D printer