E-learning
Deze website bevat informatie en cursussen waarin we u laten kennismaken met ICT toepassingen uit de dagelijkse onderwijspraktijk. D.m.v. deze website hopen we de drempel te verlagen om digitaal lesmateriaal te gebruiken.
Docent en ICT
Tips en truuks
De EHBO-cursus via internet - Eerste Hulp in Huis
Content Development, e-Learning Content Authoring, Assessments,
Courselab Software is observed to be not only a powerful software which can integrate your data, video, audio into diversos ouput like CDs, HTML We use this for the web page building as well as rich multimedia content learning our higher education course content making software.<br>Even though the software is made to perform complex task , need some sound understanding of some script and coding to have have complete knowledge of all the resources , the learning curve to get the several feature is much better as the userinterface is well made The several examples and template made ca surely this tool as ths better choice , since quality , made by the product is observed to be best. More over web2 thinking is also inbuilt with software development as colaborative comunity can actively paraticipate , independent of the comercial one.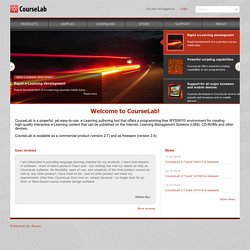 Making an LMS conform to SCORM and AICC is difficult and tedious. Doing it with the SCORM Engine is anything but. Get a 1-on-1 walkthroughof SCORM Engine.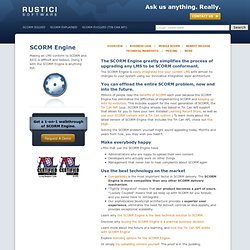 Engine - Best of breed SCORM player for any LMS