E-learning
Docent en ICT. Deze website bevat informatie en cursussen waarin we u laten kennismaken met ICT toepassingen uit de dagelijkse onderwijspraktijk.
D.m.v. deze website hopen we de drempel te verlagen om digitaal lesmateriaal te gebruiken. De cursussen bieden ondersteuning bij het gebruiken en máken van digitaal lesmateriaal. De cursussen zijn niet alléén bedoeld voor docenten maar kunnen ook als instructiemateriaal dienen in een les of als hulpbron binnen verwerkingsopdrachten van leerlingen. Binnen déze website wordt gebruik gemaakt van screencastfilmpjes voorzien van gesproken tekst. De cursussen zijn zonder kosten te bekijken op deze internetsite. Tips en truuks. De EHBO-cursus via internet - Eerste Hulp in Huis. Content Development, e-Learning Content Authoring, Assessments,
Free e-Learning authoring tool. CourseLab 2.4 is impressive for a free e-learning/testing authoring tool.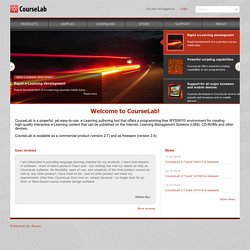 With no former use of e-learning/testing authoring software (or knowledgeable assistance) it has taken less than a day to both install and become comfortable creating tests in its authoring environment. I am even considering venturing into some of the more advanced features. Engine - Best of breed SCORM player for any LMS. Making an LMS conform to SCORM and AICC is difficult and tedious.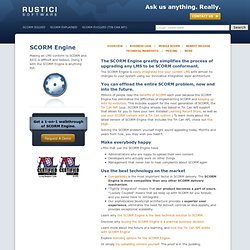 Doing it with the SCORM Engine is anything but. Get a 1-on-1 walkthroughof SCORM Engine.
---