Filipino
Get flash to fully experience Pearltrees
When I was little, my mom used to tell me whenever I had a bad cold or a bad day in school that there's absolutely nothing a bowl of arroz caldo could not fix. I believed her without the faintest tinge of doubt.
I had just finished writing and about to publish this post today, when I received an email from Mr H ... attached with a link... I watched the link ~ it gave me goosebumps... a lump in my throat... and near tears... I decided to re -write ... and paste the video in my post instead.
By Chef King Phojanakong , Umi NOM Restaurant Serves 4 Approximately 3 pounds, whole chicken, cut up 8 garlic cloves , crushed 1 tablespoon black peppercorns 5 bay leaves 1 cup distilled white vinegar* ½ cup soy sauce ½ cup water ¼ cup coconut milk
Posted on 18.
By Ivory Hut Filipino barbecue is often marinated in a mixture that includes 7-Up or Sprite, likely for its tenderizing effect.
Monday, August 4, 2008 Wonton Noodle Soup It's Chinese Wonton Noodle Soup time! A great dish to make for the Beijing 2008 Olympics!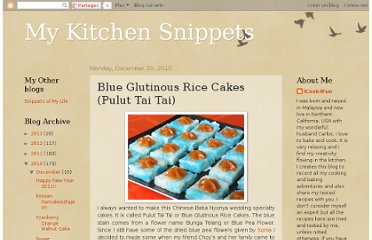 I always wanted to make this Chinese Baba Nyonya wedding specialty cakes. It is called Pulut Tai Tai or Blue Glutinous Rice Cakes. The blue stain comes from a flower name Bunga Telang or Blue Pea Flower.