2011
Sneakerpedia by Footlocker
The Wilderness Downtown Video. Power of HTML5. Music: Arcade Fire - We Used To Wait
Heineken Star Player BuzzmaniaTV.mp4
Droga5 - PUMA Social "After Hours Athlete"
MINI Getaway Stockholm 2010 - Case study
WALL OF FAME
Webby 12 - Winner Online Campaign - Skittles "Touch the Rainbow"
Innovative Thunder - Idea "Pay with a tweet" Case Study
Cannes Lion 11 - Gold Direct - Old Spice RESPONSE CAMPAIGN
The American Rom - Campaign Presentation
Bing | Decode Jay-Z Case Study
Pay with a Tweet - An overview
The facts In 1980, Renault invented the first MPV in the world: the Renault Espace. In 2010, Renault decided to relaunch sales of its MPV with a campaign focusing on a unique innovation: "The largest glass area in the world which allows passengers to appreciate the scenery around them without any obstacle between them and outside" The Challenge How can we share this unique experience? The Solution
Renault Espace 360° Navigation iPad app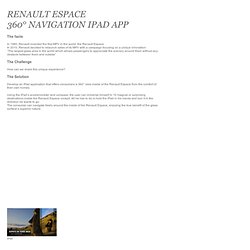 MINI GETAWAY STOCKHOLM 2010.
To launch the new MINI Countryman, we created the world's biggest reality game on iPhone. For seven days, everybody with an iPhone was invited to hunt and catch a virtual MINI in Stockholm city and win a real MINI Countryman. You used an app where you could see the location of the virtual MINI, all other players and yourself. If you got closer than 50 metres of the virtual MINI, you could take it with your iPhone.