Proyecto
5-Exercises. 'Barbie Cares Supporting Children in the Arts(TM)' Joins The Entertainment Industry Foundation... -- re> LOS ANGELES, April 13. LOS ANGELES, April 13 /PRNewswire/ -- Hollywood celebrities Cindy Crawford, Deedee Davis, Joely Fisher, Mimi Rogers, Jane Seymour, Jennifer Stallone, Sela Ward, Forest Whitaker and Mae Whitman step onto the "pink" carpet at the new FAO Schwarz West Coast flagship store to celebrate The Barbie(R) Brand's $2 million commitment to the Entertainment Industry Foundation's (EIF) new national initiative to support arts education for children.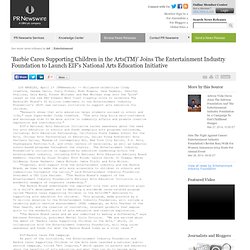 "Research shows that arts education helps students succeed in school and life," says Super-model Cindy Crawford. "The arts help build self-confidence and encourage kids to be more active in community affairs and promote creative expression and individuality. " Manualarte. EJ926368. WW_Engaging_Arts. Irwin%2Bgouzouasis%2Bleggo%2Bspringgay%2Bgrauer. Prof. Elliot W. Eisner: "What Do the Arts Teach?" How Can We Nurture Creativity In Educational Contexts? Fluir Creativo: Técnicas Creativas. Se puede hablar de Técnicas Creativas, para referirse a un procedimiento deliberado y consciente destinado a reducir y eliminar los bloqueos que frenan la expresión creativa, a estimular la búsqueda creativa, a favorecer el desarrollo y comprensión del proceso creativo, y a lograr resultados creativos.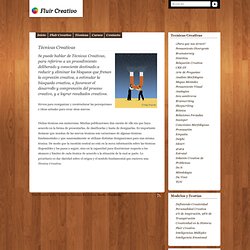 Sirven para reorganizar y reestructurar las percepciones e ideas actuales para crear otras nuevas. Dichas técnicas son numerosas.
---