Twitter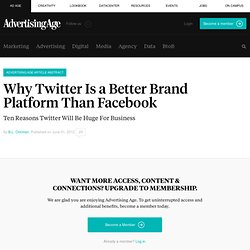 Back in 2007, I was practically tarred and feathered when I wrote a post giving reasons why marketers need to pay attention to Twitter. Now that Twitter is six years old and has 140M+ active users, creating over one billion Tweets every three days, the platform is more important than ever before. Here's what I think today: it's a stronger platform for advertisers than Facebook will ever be. In fact, I'd put my money on Twitter to be here and be growing long after Facebook fades away. I think Twitter will monetize with brand partnerships like its current brilliant global one with Pepsi, and its partnership with ESPN. These are non-obnoxious, non-obtrusive ways to use advertising and promote content and brands.
Why Twitter Is a Better Brand Platform Than Facebook
Nos tweets vendus. De quel droit ?
Twitter permet la vente des messages partagés par ses utilisateurs. En autorisant des sociétés privées à les exploiter, l'entreprise pose la question du statut juridique de nos tweets. Un imbroglio juridique éclairci ici. La semaine dernière, tombait cette nouvelle consternante que le chant des oiseaux pouvait être approprié par le biais du droit d'auteur… Hasard ou coïncidence, nous apprenions également que Twitter avait vendu pour plus de 250 millions de dollars nos "gazouillis".
Twitter to Tweak Brand Pages [REPORT]
Twusic = Twitter + Music
Tweet-a-Beer – web app for sending a $5 beer through linking Twitter and PayPal accounts. Thirsty?
Twitter rachète Posterous, concurrent de Tumblr