Themes ref
Powerful, clean, and well-noted code for efficient WordPress theme development Whiteboard Framework has been helping WordPress developers cut back on their development time and improve their WordPress powered websites since 2008. Whiteboard framework for WordPress was developed to speed up the development of WordPress themes. Whiteboard does so by eliminating the time spent on code common to all WordPress themes and includes non-intrusive code that improves the overall WordPress theme in many ways - including SEO, speed, usability, mobile support, and multi-lingual support.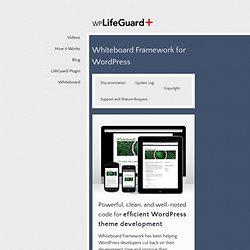 Sojourn Community Church
Vintage and Blues WordPress Themes - Smashing Magazine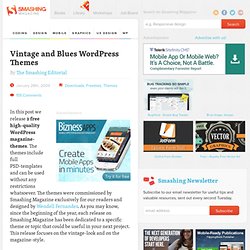 Advertisement In this post we release 2 free high-quality WordPress magazine-themes. The themes include full PSD-templates and can be used without any restrictions whatsoever.
Advertisement In this post we release Imprezz – a simple and beautiful 3-column-theme, a free WordPress theme designed by Gopal Raju from ProductiveDreams1 for Smashing Magazine and its readers. The theme can be used in various setting for various purposes – in magazine-blogs, but also in corporate and private blogs. The theme supports WordPress 2.7.1 and works well with the zdcomments widget (which is used to display the top commenters).
Download "Imprezz", A Free WordPress Theme - Smashing Magazine