Themes dl
PhotoQ WordPress Photoblog Plugin. PhotoQ is a WordPress plugin that turns your blog into a photoblog.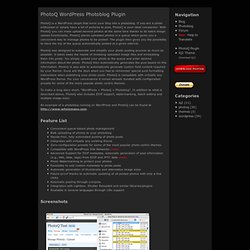 If you are a photo enthusiast or simply have a lot of pictures to post, PhotoQ is your ideal companion. With PhotoQ you can mass upload several photos at the same time thanks to its batch image upload functionality. »»»» Fotofolio Wordpress Theme – For your online portfolio | Pupung Budi Purnama «««« Fotofolio 1.0.2 Released The Support and Release page moved to : WORDSPOP.COM And finally, what i've said before about a wordpress theme for photographer either any visual works portfolio (graphic designer, drawer, architect, etc) is now released.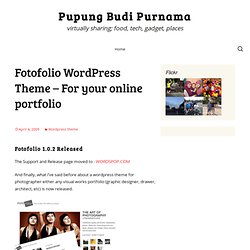 Demo and Showcase. iTheme2. Thème Oleum. Thème Mahasoli Tribune. SimpleFolio: A Free Clean Portfolio WordPress Theme - Smashing Magazine. Advertisement Today we are glad to release a beautiful, simple and clean portfolio WordPress theme — SimpleFolio, designed by Omar E.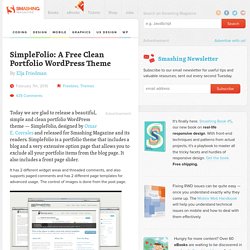 Corrales1 and released for Smashing Magazine and its readers. Free Minimal, Swiss Design WordPress Themes (4 Themes) - Smashing Magazine. Advertisement In this post we release yet another freebie: an original set of four exclusive minimal, clean WordPress themes designed by Marios Lublinski1 and released for web design community.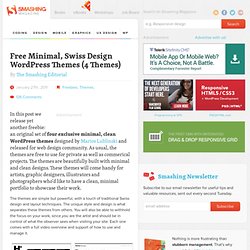 As usual, the themes are free to use for private as well as commerical projects. The themes are beautifully built with minimal and clean designs. These themes will come handy for artists, graphic designers, illustrators and photographers who'd like to have a clean, minimal portfolio to showcase their work. The themes are simple but powerful, with a touch of traditional Swiss design and layout techniques. Free Dark and Clean WordPress Theme: Designpile - Smashing Magazine. Advertisement In this post we are glad to release DesignPile WordPress Theme, a theme designed by Site 5 and released for Smashing Magazine and its readers.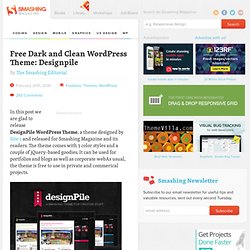 The theme comes with 3 color styles and a couple of jQuery-based goodies. It can be used for portfolios and blogs as well as corporate webAs usual, the theme is free to use in private and commerical projects. Sight: Free WordPress 3.0.1-Ready Theme For Magazines and Blogs - Smashing Magazine. Advertisement In this post we release a yet another WordPress theme: Sight is a powerful WordPress 3.0.1-ready theme which will work best for magazines and blogs.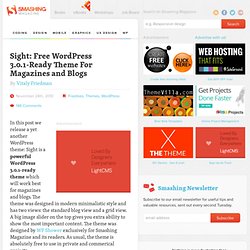 The theme was designed in modern minimalistic style and has two views: the standard blog view and a grid view. A big image slider on the top gives you extra ability to show the most important content.
---