Design
Adobe CS5 Icons. Home Browse By Tags Register Submit Vector Advertise The Blog.
Is Fireworks better than Photoshop? Learn. Rapid Fire #1: Photo-Realistic « SixThings. Make your digital images more convincing and lifelike with just a handful of gradients and custom shadows.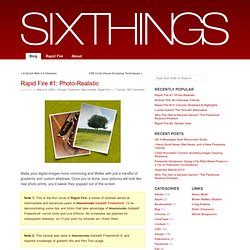 Once you're done, your pictures will look like real photo prints, you'd swear they popped out of the screen. Note 1: This is the first issue of Rapid Fire, a series of tutorials aimed at intermediate and advanced users of Macromedia Adobe® Fireworks®. I'll be demonstrating some tips and tricks that take advantage of Macromedia Adobe® Fireworks®' vector tools and Live Effects. No schedules are planned for subsequent releases, so I'll just post my tutorials as I finish them. Web Safe Fonts - A Tutorial. What Are Fonts?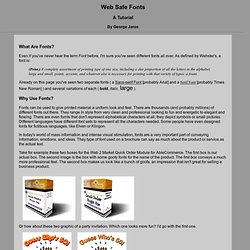 Even if you've never hear the term Font before, I'm sure you've seen different fonts all over. As defined by Webster's, a font is: (Print.) A complete assortment of printing type of one size, including a due proportion of all the letters in the alphabet, large and small, points, accents, and whatever else is necessary for printing with that variety of types; a fount. Already on this page you've seen two separate fonts ( a Sans-serif Font [probably Arial] and a Serif Font [probably Times New Roman] ) and several variations of each ( bold, italic, large ). Logopond - Identity Inspiration. The Do's And Don'ts Of Infographic Design - Smashing Magazine. Advertisement Editor's Note: You might want to read Nathan Yau's article The Do's And Don'ts Of Infographic Design: Revisited here on Smashing Magazine which is a response to this article.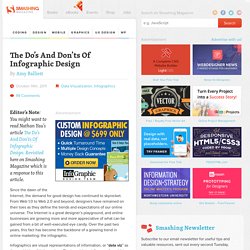 Since the dawn of the Internet, the demand for good design has continued to skyrocket. From Web 1.0 to Web 2.0 and beyond, designers have remained on their toes as they define the trends and expectations of our online universe. The Internet is a great designer's playground, and online businesses are growing more and more appreciative of what can be gained from a bit of well-executed eye candy. Over the past two years, this fact has become the backbone of a growing trend in online marketing: the infographic. Photoshop Tutorials. Introducing The 6 + 1 Model For Effective Copywriting (Better Than AIDA!) - Smashing UX Design. Advertisement AIDA.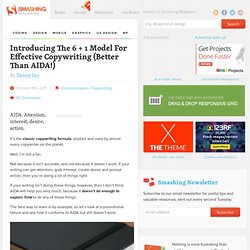 Attention, interest, desire, action. It's the classic copywriting formula, studied and used by almost every copywriter on the planet. Well, I'm not a fan. 16 Pixels: For Body Copy. Anything Less Is A Costly Mistake - Smashing Magazine. 16 Pixels: For Body Copy.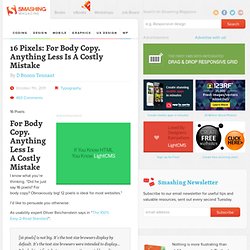 Anything Less Is A Costly Mistake Advertisement I know what you're thinking. "Did he just say 16 pixels? Simple Genius: A Desk That Grows With Your Kid | Co. Design. Kids grow.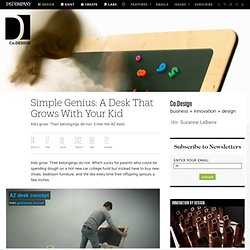 Their belongings do not. Which sucks for parents who could be spending dough on a hot new car college fund but instead have to buy new shoes, bedroom furniture, and the like every time their offspring sprouts a few inches. Envira Media | Contact. Climate iPhone Application. Climate is the ingenious weather app for iPhone that offers at-a-glance access to current time and forecast with soft natural soundscapes and brilliant, photorealistic scenery in tune to the season.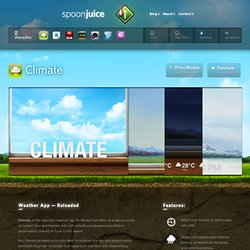 Run Climate propped up on your desk throughout the day and enjoy a subtly animated mountain landscape that updates in real-time with WeatherBug-powered local conditions, accurate solar and lunar positions, and a charming houseplant that quietly grows and blossoms over time. Climate lets you choose from two gorgeously illustrated themes – windowsill and minimal – in both portrait and dock-friendly landscape modes, and you can run your own iPod playlists in the background while you work.
---