Design
Michael johansson. Monsieur Design. Achtgrad - designklassiker des 20. jahrhunderts. DIY Star Wars Snowflakes. By Chaunce Dolan on Friday, December 17th, 2010 With winter upon us, we thought it would be fun to share a fun project of ours with you: snowflake designs with a Star Wars twist.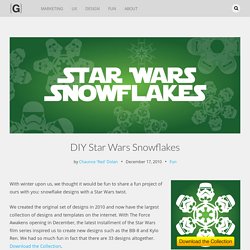 Last year's wild success with our original designs prompted us to spend some time this year polishing those designs and coming up with some new ones. We had so much fun in fact that there are 19 new designs altogether. Download the Collection. We also took some of your feedback and made the grey in the templates a little darker hoping they will print out better for everyone. Glass notes: some manufacturer's labels & marks. N.B.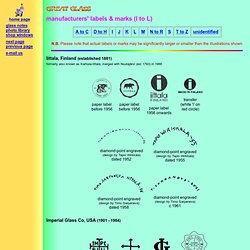 Please note that actual labels or marks may be significantly larger or smaller than the illustrations shown Iittala, Finland (established 1881)formerly also known as Karhula-Iittala; merged with Nuutajärvi (est 1793) in 1988. Designgooddesign. Göran Hongell, Bowl, 1930s, Crystal. 3-5/8 x 7-3/8", Manufactured by Karhula Glassworks, The Museum of Modern Art.
Gift of Finland Ceramics & Glass Corp. Charles Eames and Ray Eames, Full Scale Model of Chaise Longue (La Chaise), 1948, Hard rubber foam, plastic, wood, and metal. 32-1/2 x 59 x 24-1/4", The Museum of Modern Art. Gift of the designer.
---