UTILISATION
Lollapalooza in Photos: Check Out This Instagram Aggregator. Lollapalooza kicks off Friday in Chicago.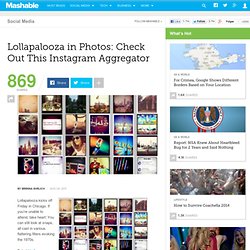 If you're unable to attend, take heart: You can still look at snaps, all cast in various flattering filters evoking the 1970s. Behold Lollagram, a fun little hack created by PR firm Golin Harris that aggregates pictures from the festival tagged with words pertaining to Lollapalooza. If you're attending the festival, hit up the site — after downloading apps both official and birthed from HackLolla — and augment your patchy memories.
Check out more Instagram remixes below: The Vaccines utilise Instagram pour crowdsourcer son clip | Givememore. Encore une nouvelle utilisation d'Instagram, l'application des photographes en herbe.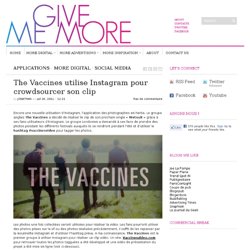 Le groupe anglais a décidé de réaliser le clip de son prochain single grâce à ses fans utilisateurs d'Instagram. Le groupe Londonien a demandé à ses fans de prendre des photos pendant les différents festivals auxquels ils se rendront pendant l'été et d'utiliser le pour tagger les photos. Les photos une fois collectées seront utilisées pour réaliser la vidéo.
---