USAGE
Intel - 2012 State of Mobile Etiquette and Digital Sharing Around the World. Trending the Future - Mobile Trends 2. Nomophobia -- fear of being without your phone -- is on the rise. Do you feel anxious if your cellphone isn't nearby?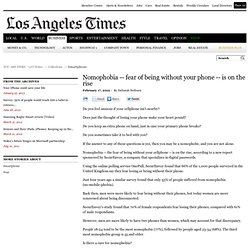 Does just the thought of losing your phone make your heart pound? Do you keep an extra phone on hand, just in case your primary phone breaks? Do you sometimes take it to bed with you? Understanding consumer mobile usage. Value/Importance: ★★★★★ Recommended link: Yahoo mobile modes research I found this research interesting since it set out to understand how users interact with devices on their mobile.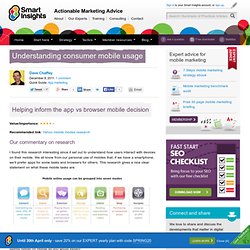 We all know from our personal use of mobiles that, if we have a smartphone, we'll prefer apps for some tasks and browsers for others. This research gives a nice clear statement on what these mobile tasks are: An obvious question is "how do mobile tasks differ from PC tasks"? Americans and Mobile Computing: Key Trends in Consumer Research. Mobile phone confiscation: 'the worst teenage punishment' Www.snptv.org/_files/veilles/fichiers/veilles-235-230.pdf. Average Android app downloads per market. GoMo: An Initiative From Google. Ten mobile site best practices. GoMo: Ten mobile site best practices Wednesday, November 2, 2011 | 7:59 AM Labels: GoMo Yesterday we introduced you to the GoMo initiative and today we take a deep dive to share what makes for a good mobile website experience.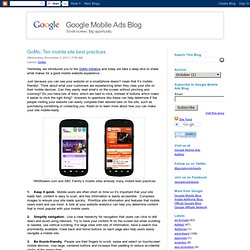 Just because you can see your website on a smartphone doesn't mean that it's mobile-friendly! Think about what your customers are experiencing when they view your site on their mobile devices. Médias & Publicité : L'Internet mobile s'envole en France. Les mobinautes français plébiscitent les services pratiques, les réseaux sociaux et les sites de médias.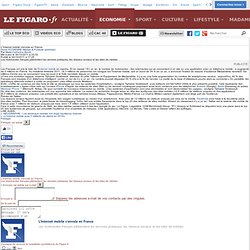 Les Français ont pris le train de l'Internet mobile en marche. Et en masse ! Data Points: Mobile's Mojo. Mobile Users Expand Their Search Habits. More than 91 million US consumers will use the internet through a mobile device at least monthly by the end of this year, eMarketer estimates, and research shows that the increase in on-the-go web usage goes hand in hand with more search activity for local content.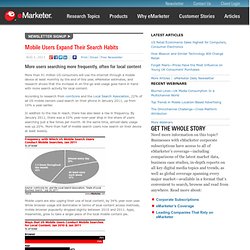 According to research from comScore and the Local Search Association, 22% of all US mobile owners used search on their phone in January 2011, up from 16% a year earlier. In addition to the rise in reach, there has also been a rise in frequency. By January 2011, there was a 10% year-over-year drop in the share of users searching just a few times per month. At the same time, almost-daily usage was up 20%. More than half of mobile search users now search on their device at least weekly.
MOBILE PAYMENT
GAMING. You Love Your iPhone. Literally. But should we really characterize the intense consumer devotion to the iPhone as an addiction?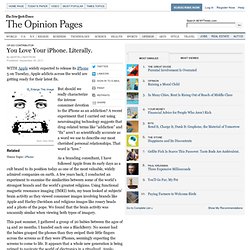 A recent experiment that I carried out using neuroimaging technology suggests that drug-related terms like "addiction" and "fix" aren't as scientifically accurate as a word we use to describe our most cherished personal relationships. That word is "love."
---