TV
Www.nielsen.com/content/dam/corporate/us/en/reports-downloads/2012-Reports/Nielsen-Cross-Platform-Report-Q1-2012-final.pdf. Www.snptv.org/_files/veilles/fichiers/veilles-461-416.pdf. Say No to Nielsen. This article was written by Alex Blum, chief operating officer at KIT Digital, and Alan Wolk, global lead analyst at the firm.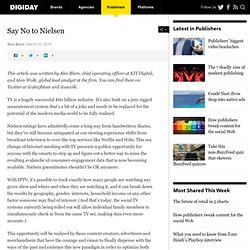 You can find them on Twitter at @alexjblum and @awolk. TV is a hugely successful $60 billion industry. Video and the Mind: In a Sea of Web Video Content, Let Your Mood Dictate What to Watch. At VideoMind, we're always thinking about video—and how media companies and brands use it to entertain, engage and communicate with audiences.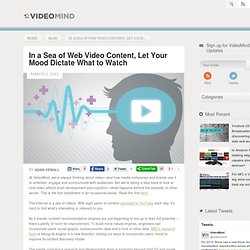 But we're taking a step back to look at how video affects brain development and cognition—what happens behind the eyeballs, in other words. This is the first installment of an occasional series. Read the first here. Research and Development: An Affective Interface for Mood-Based Navigation. TV's Digital Age Will (Truly) Arrive In 2017. Only One-Third of TV-Watching in the U.S. Is Realtime. Cord-cutting may be an unproven myth, but new research suggests that people's television habits are changing in a way you wouldn't expect: Only a third of all television viewing nowadays happens "live," without the Internet, TiVo or some other form of recording or time shifting.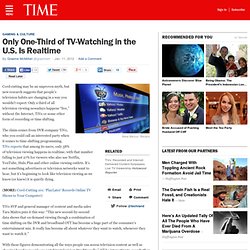 The claim comes from DVR company TiVo, who you could call an interested party when it comes to time-shifting programming. TiVo reports that among its users, only 38% of television viewing happens in realtime, with that number falling to just 27% for viewers who also use Netflix, YouTube, Hulu Plus and other online viewing outlets. CES: Survey Finds Traditional TV Viewing Is Collapsing. Redirecting. Www.snptv.org/_files/veilles/fichiers/veilles-245-242.pdf. More teenagers say they would miss their mobiles and the internet than watch TV. But TV viewing is still growing, with children watching more TV than ever 95 per cent of 12-15s now have access to the internet at homeSocial networking is being driven by smartphones For the first time 12-15s say they would miss their mobile (28 per cent) and the internet (25 per cent) more than TV (18 per cent), according to new Ofcom research.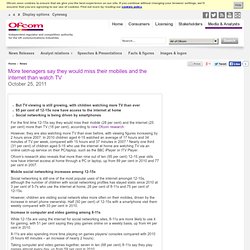 However, they are also watching more TV than ever before, with viewing figures increasing by 2 hours since 2007. In 2010 children aged 4-15 watched an average of 17 hours and 34 minutes of TV per week, compared with 15 hours and 37 minutes in 2007.* Nearly one third (31 per cent) of children aged 5-15 who use the internet at home are watching TV via an online catch-up service on their PC/laptop, such as the BBC iPlayer or ITV Player. Ofcom's research also reveals that more than nine out of ten (95 per cent) 12-15 year olds now have internet access at home through a PC or laptop, up from 89 per cent in 2010 and 77 per cent in 2007. In a Gloomy Economy, TV Sitcoms Are Making a Comeback.
Will the picture improve for TV advertising data? | In-Depth Analysis. Is TV still living in the past?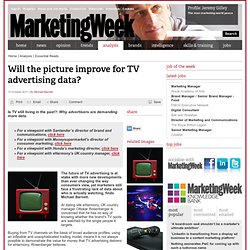 : Why advertisers are demanding more data. For a viewpoint with Santander's director of brand and communications, click here For a viewpoint with Moneysupermarket's director of consumer marketing, click here For a viewpoint with Honda's marketing director, click here For a viewpoint with eHarmony's UK country manager, click here.
STREAMING
FRANCE. USAGES. Consulting and Research: Telecoms, Internet, Media. Le marché mondial de la télévision 30/08/2011 Avec plus de 2/3 d'abonnés dans le monde, le câble domine le marché de la télévision payanteWorld Television MarketL'IDATE vient de publier la 21ème édition de son étude semestrielle « Le marché mondial de la télévision ».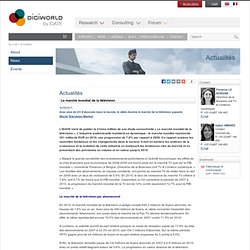 L'industrie audiovisuelle maintient sa dynamique - le marché mondial représente 301 milliards EUR en 2010, une progression de 7,8% par rapport à 2009. Ce rapport analyse les nouvelles tendances et les changements dans le secteur. Il met en lumière les moteurs de la croissance et la mutation de cette industrie en analysant les tendances clés du marché et en présentant des prévisions en volume et en valeur jusqu'à 2015. Presents TV & Video Consumer Trend Report 2011. Internet-based on-demand viewing continues to grow Social media usage is impacting the way people watch TV High willingness to pay for fresh content Ericsson (NASDAQ:ERIC) ConsumerLab has released the results of its annual study "TV & Video Consumer Trend Report 2011," showing that people are spending slightly less time watching scheduled broadcast TV, and that they are spending more time watching streamed on-demand TV online.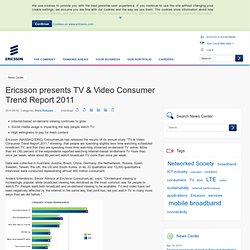 More than 44 (38) percent of the respondents reported watching internet-based on-demand TV more than once per week, while about 80 percent watch broadcast TV more than once per week. Data was collected in Australia, Austria, Brazil, China, Germany, the Netherlands, Russia, Spain, Sweden, Taiwan, the UK, the US and South Korea. In all, 22 qualitative and 13,000 quantitative interviews were conducted representing almost 400 million consumers. 1061/R/1543649/473133.pdf.
Infographic: Streaming Killed the Video Star? ← Wistia at Work. Update: There was some confusion as to why Netflix (which clearly uses an enormous amount of bandwidth) was not included in this infographic.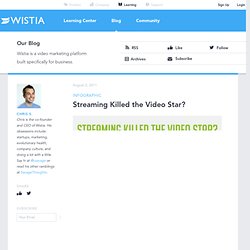 Our source for some of this data, Nielsen, measured the viewing habits of people doing web streaming to laptops and desktops but does not include data on streaming to devices. The vast majority of Netflix streaming is to TVs via devices such as XBOX, Wii, Boxee, and Roku which is why they are not included. Thanks to @tomcritchlow for asking the clarifying question and bringing up this point. TV and the internet: Never the twain?
Fjord@ The Future of Broadcasting. Havas Media et Ipsos Media CT réalisent une étude qualitative sur la Télévision Connectée. 3 questions à Anne Bouisset, directrice de TVMI (Aegis Media) Où en sont les noces entre TV et Internet ?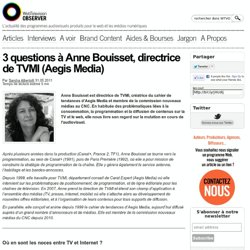 Quelles noces ? Il y a bien des façons de se marier… En terme de programmes, les télévisions commencent à intégrer l'idée d'une approche transversale entre les différents supports. Mais il y a encore beaucoup à faire. Bien entendu, cela tient au modèle économique, mais aussi au fait qu'au fond, peu de gens comprennent en même temps le langage web et le langage TV. Dans les chaînes, on travaille encore beaucoup en silo. Mozilla Firefox. Selon une étude publiée par d'Eurodata TV Worldwide, la consommation TV dans le monde poursuit sa croissance pour atteindre un nouveau record en 2010 avec 3h10 par jour et par personne, soit 6 minutes de plus qu'il y a 5 ans.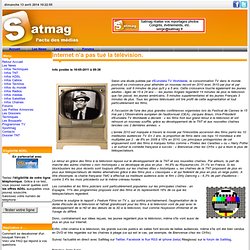 Cette croissance touche également les jeunes adultes - âgés de 15 à 24 ans - : les jeunes Anglais regardent 14 minutes de plus la télévision que l'an passé, les jeunes américains, 5 minutes supplémentaires et les jeunes Français 3 minutes de plus. Tous les genres télévisuels ont tiré profit de cette augmentation et tout particulièrement les films.
A l'occasion de l'une des plus grandes conférences organisées lors du Festival de Cannes le 15 mai par L'Observatoire européen de l'audiovisuel (OEA), Jacques Braun, Vice-Président d'Eurodata TV Worldwide a déclaré : « les films font leur grand retour à la télévision et ont retrouvé un nouveau souffle, grâce au développement de la TNT et aux nouvelles chaînes lancées ces 2 dernières années. » What is #TV, Anyway? I saw a a tweet this morning about #hashtags being rolled out on screen across television shows, which reminded me of this little film and decklet I threw together a while back. The basic point I attempt to beat to death is that, as we've discussed before, media is one system now, which allows us to reverse the polarity, and that media definitions are assemblages of things, or, to put it another way, 'TV' may not be what we think it is, and even if it was, it probably isn't anymore.
Y'know? Forget About Google And Apple, The Future Of Television Is Facebook.
---