TURN OFFLINE
Does The Digital Age Force Us To Remember Too Much? This article titled "Why we must remember to delete – and forget – in the digital age" was written by Stuart Jeffries, for The Guardian on Thursday 30th June 2011 19.30 UTC When Viktor Mayer-Schönberger's stepfather died, he left a collection of 16,000 heavy glass photographic slides, his visual record of decades travelling the world.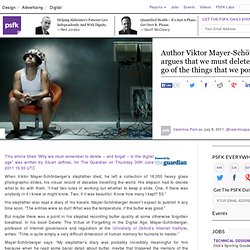 His stepson had to decide what to do with them. "I had two rules in working out whether to keep a slide. One, if there was anybody in it I knew or might know. Hotels Will Discount Your Stay If You Surrender Your Phone And Laptop. "Je n'ai plus de smartphone, j'ai tué mon compte Facebook ... et je revis !". LE MONDE pour Le Monde.fr | • Mis à jour le Ce paradoxe n'est pas uniquement français.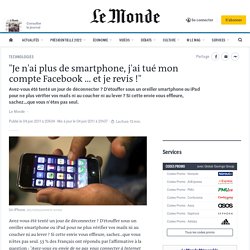 Tandis que l'équipement technologique ne cesse de se démocratiser dans le monde, l'Australienne Susan Maushart vient de publier un livre témoignage sur ses six mois sans technologie avec trois adolescents ( ). Dans la même veine a été organisée aux Etats-Unis, les 4 et 5 mars, le second ( ) imaginée par l'association Sabbath manifesto. Le Monde.fr a lancé un appel à témoignages sous la formule : . Analogue artists defying the digital age | Culture | The Observer. With indecent haste, the digital revolution has consigned many of our once-cherished artefacts to the dustbin of history.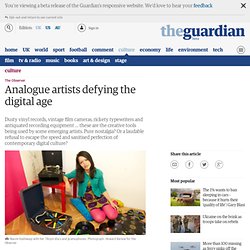 Though enthusiasts and obsessives have stayed loyal to pre-digital formats, for the rest of us it feels like the vinyl record, the photographic print, the Polaroid camera, the analogue recording studio and the darkroom have been cast aside, rendered all but obsolete by a digitally driven culture that devours all that preceded it. Soon, we are told, the newspaper and the book may share the same fate. The young artists featured here – a poet who composes on a typewriter, a musician who has built an entirely analogue recording studio, a photographer who shuns digital for manual vintage cameras and an artist who DJs on a gramophone – are all, in their different ways, reacting to digital culture's fast-forward momentum.
Jemima Kiss: How I kicked my digital habit | Technology | The Observer. We were brushing through wet grass in the early morning when we saw it – a flash of white drifting behind a small patch of trees, backlit by the sun.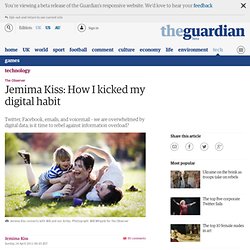 Crouching down next to my small son, we watched the unmistakable shape of a barn owl until he disappeared into the wood. The look on my son's face was part of a brief moment of magic, the kind of memory that we live for. Ordinarily, my next thought would have been to pull out my phone and take a photo, send a tweet or record a video. Un nouvel appendice pour l'espèce humaine? Et si nos multiples extensions numériques nous transformaient en monstres ?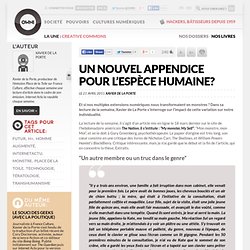 Dans sa lecture de la semaine, Xavier de La Porte s'interroge sur l'impact de cette variation sur notre individualité. La lecture de la semaine, il s'agit d'un article mis en ligne le 18 mars dernier sur le site de l'hebdomadaire américain The Nation, il s'intitule : "My monster, My Self"; "Mon monstre, mon Moi", et on le doit à Gary Greenberg, psychothérapeute. Le papier d'origine est très long, son cœur consiste en une critique des livres de Nicholas Carr, The Shallows, et William Powers Hamlet's BlackBlerry.
---