TREND
Get flash to fully experience Pearltrees
Filed under advertising , Apple , applications , brands , consumer behavior , internet behavior , location , mobile , mobile web , Predictions , purchase , search , social networking , Trend Spots , Trend Spotting Behavior , Trends Review We have just released the 2011 Mobile Predictions Report featuring the predictions of ReadWriteWeb, GigaOm, Juniper, IBM and other leading experts. TrendsSpotting 4th annual digital prediction series is featuring the predictions of digital and marketing experts on the big changes awaiting us in the coming year. Looking at 2010 and observing the trends we've seen that year – we aim at figuring out what will be new in 2011. THE NEW NEXT initiative is focused not in what will happen in 2011 (as most predictions you find) but rather on the new trends emerging out of what we have seen earlier. Look for TrendsSpotting's prediction model (last slide) to conclude all we learned on consumers, technologies, strategies and industries for the coming year in mobile.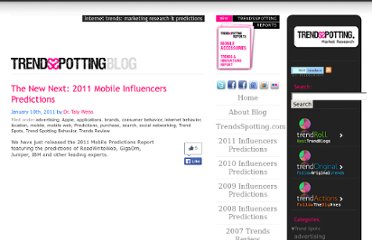 December 15, 2010 Kunal Gupta is CEO of Polar Mobile By Kunal Gupta What are the key trends with mobile applications and what will Apple, Google, Microsoft, Research In Motion and others do that will affect brands in their marketing and commerce?
Mobile Megatrends 2011 [We 're excited to release our fourth annual Mobile Megatrends 2011 – themed around what else? how software is fundamentally changing the telecoms value chain. In this fourth annual research presentation we take a deep dive into the many facets of change in the mobile industry; the DELL-ification of mobile, the battle for experience ecosystems, apps as web 3.0, the use of open + closed strategies to commodise + protect and how telcos can compete in the age of software.]
2010 was an important year for mobile, especially in media, where the announcement of the iPad and other tablets, along with new smartphones, made mobile and tablet apps especially intriguing to publishers. This year promises greater growth and new opportunities for content producers. Here are some of the top trends to keep an eye on as 2011 unfolds. 1.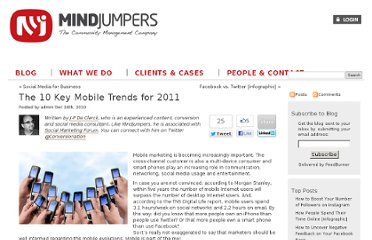 Written by J-P De Clerck , who is an experienced content, conversion and social media consultant . Like Mindjumpers, he is associated with Social Marketing Forum . You can connect with him on Twitter @Conversionation Mobile marketing is becoming increasingly important. The cross-channel customer is also a multi-device consumer and smart phones play an increasing role in communication, networking, social media usage and entertainment.