THE INTERNET OF THINGS
Get flash to fully experience Pearltrees
You are now subscribed to design mind.
A l'occasion du lancement du nouveau service evianchezvous.com , evian, BETC DIGITAL et Joshfire ont créé un objet connecté surprenant et innovant qui devrait faire couler beaucoup d'eau… Cet objet connecté au design épuré se colle comme un magnet sur le frigo. Grâce à une expérience simple et ludique, il permettra de passer la commande d'eau minérale naturelle directement depuisla cuisine sans passer par l'ordinateur.
It's Infographic time thanks to the team at the GSMA .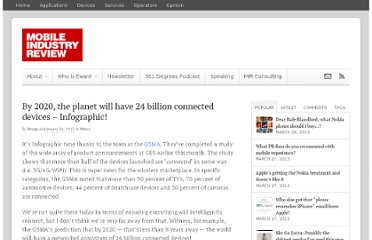 Adrian Dennis/Agence France-Presse — Getty Images Instead of going through life staring into a mobile device, people one day may be able to wear a computer.
But now — nothing personal, mind you — the Internet is growing up and lifting its gaze to the wider world. To be sure, the economy of Internet self-gratification is thriving.
SAN DIEGO — Cars, one of the great mobile devices to begin with, are about to get connected to the Internet like never before.
Filed under applications , consumer behavior , internet behavior , Internet of Things , location , mobile web , Predictions , purchase , Trend Spotting Behavior , trends , Trends Review Based on the concept of " The Internet of Things " TrendsSpotting has developed a working model for NPD. "The ANA Model" was developed and implemented while working with tech companies, and allows us to predict future products and services.