Tendances
Smaller Than Your Living Room: 7 Of The World's Best Nano Houses | Co. Design
Studio-apartment dwellers may feel reasonably content living a small-scale existence. But if transplanted in the country, how many would opt for a similarly sized house? Driven by a commitment to reduce energy consumption and built space, there's a growing trend among the eco-conscious to build tiny homes. A new book, Nano House by Phyllis Richardson (Thames & Hudson), gathers 40 of the best-designed examples from around the world--all of which showcase an appreciation for the efficient use of space, materials, and resources. Will they inspire "real housewives" of Beverly Hills to abandon their McMansions, short of a foreclosure notice?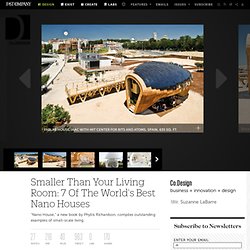 This Insane Kitchen Of The Future Powers Itself With Leftovers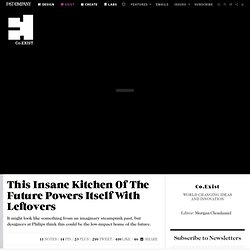 It's called the Microbial Home. Created as part of Philips' Design Probes program to "explore far-future lifestyle scenarios," it is a vision for a collection of household appliances and fixtures that all work together in an "integrated cyclical ecosystem." The Microbial Home takes kitchen composting to its extreme, with a closed-loop system in which the waste products from one process are used as energy inputs for another.
The Wallpaper* 150 | Art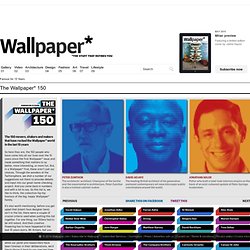 The 150 movers, shakers and makers that have rocked the Wallpaper* world in the last 15 years So here they are, the 150 people who have come into all our lives over the 15 years since the first Wallpaper* issue and made something that matters to us better, more interesting, or more fun. But, in a Wallpaper* first, these aren't just our choices.
Maison & Objet Fall 2011, Part Two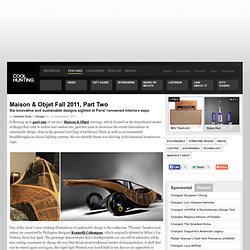 Following up to part one of our 2011 Maison & Objet coverage, which focused on the transitional modes of design that cater to indoor and outdoor use, part two aims to showcase the recent innovations in sustainable design. Seen in the general recycling of traditional fibers as well as environmental breakthroughs in classic lighting systems, the eco-friendly theme was thriving at the biannual housewares expo. One of the show's most striking illustrations of sustainable design is the audacious "Phoenix" bamboo and rattan car conceived by Philippine designer Kenneth Cobonpue, which originally debuted at Milan's Via Tortona show last April. The prototype demonstrates that a biodegradable car can still be attractive, while also asking consumers to change the way they think about traditional modes of transportation. A shell that can be reused again and again, the super light Phoenix was hand-built in ten days as an opposition to typical assembly line production.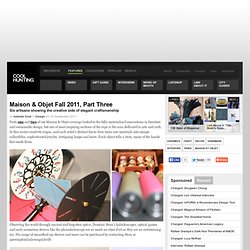 Parts one and two of our Maison & Objet coverage looked to the fully materialized innovations in furniture and sustainable design, but one of most inspiring sections of the expo is the area dedicated to arts and craft. In this sector creativity reigns, and each artist's distinct know-how turns raw materials into unique collectibles, sophisticated jewelry, intriguing lamps and more. Each object tells a story, many of the hands that made them. Observing the world through ancient and forgotten optics, Dominic Stora's kaleidoscopes, optical games and early animation devices like the phenakistoscope are as much an objet d'art as they are an entertaining toy. His range of unearthed spy devices and more can be purchased by contacting Stora at apreslapluie[at]orange[dot]fr. Based in Brittany, French artist Pauline Bétin creates beautifully fragile glass sculptures.
Maison & Objet Fall 2011, Part Three
The United States of Design 2011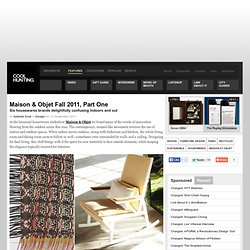 Maison & Objet Fall 2011, Part One
At the biannual housewares tradeshow Maison & Objet we found many of the winds of innovation blowing from the outdoor arena this year. The contemporary, nomad-like movement reverses the use of indoor and outdoor spaces. When indoor moves outdoor, along with bathroom and kitchen, the whole living room and dining room seem to follow as well—sometimes even surrounded by walls and a ceiling. Designing for dual living, this shift brings with it the quest for new materials to face outside elements, while keeping the elegance typically reserved for interiors.
L'Upcycling, la nouvelle tendance design 2010 | Régie publicitaire presse & web | EXPRESS ROULARTA SERVICES