Tendances
Smaller Than Your Living Room: 7 Of The World's Best Nano Houses | Co. Design
Studio-apartment dwellers may feel reasonably content living a small-scale existence. But if transplanted in the country, how many would opt for a similarly sized house? Driven by a commitment to reduce energy consumption and built space, there's a growing trend among the eco-conscious to build tiny homes. A new book, Nano House by Phyllis Richardson (Thames & Hudson), gathers 40 of the best-designed examples from around the world--all of which showcase an appreciation for the efficient use of space, materials, and resources.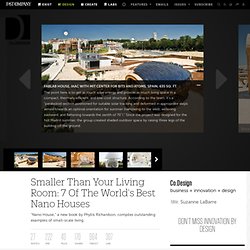 Berlin-based urban intervention collective Stiftung Freizeit has designed an illusionary 'Wohnzimmer' under a bridge in Berlin . Made with tape, this minimal but cosy 'apartment' combines the raw esthetics of grey concrete with the warm and intimate feeling of the typical German Wohnzimmer interior. Combining these two ingredients of what could be called Berlin style, the artists Inés Aubert and Rubén Jódar aim to make life a little more comfortable for those who spend their time on the streets. Their newly constructed space under the Warschauer Brücke has a very cheerless look and feel.
An Apartment Under The Bridge
This Insane Kitchen Of The Future Powers Itself With Leftovers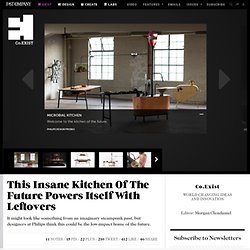 It's called the Microbial Home . Created as part of Philips' Design Probes program to "explore far-future lifestyle scenarios," it is a vision for a collection of household appliances and fixtures that all work together in an "integrated cyclical ecosystem." The Microbial Home takes kitchen composting to its extreme, with a closed-loop system in which the waste products from one process are used as energy inputs for another.
The Wallpaper* 150 | Art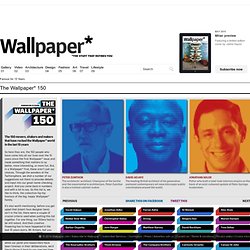 The 150 movers, shakers and makers that have rocked the Wallpaper* world in the last 15 years So here they are, the 150 people who have come into all our lives over the 15 years since the first Wallpaper* issue and made something that matters to us better, more interesting, or more fun. But, in a Wallpaper* first, these aren't just our choices.
The United States of Design 2011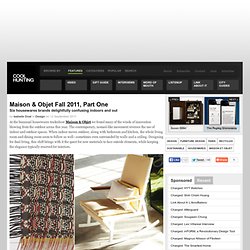 Maison & Objet Fall 2011, Part One
Six housewares brands delightfully confusing indoors and out At the biannual housewares tradeshow Maison & Objet we found many of the winds of innovation blowing from the outdoor arena this year. The contemporary, nomad-like movement reverses the use of indoor and outdoor spaces. When indoor moves outdoor, along with bathroom and kitchen, the whole living room and dining room seem to follow as well—sometimes even surrounded by walls and a ceiling.
Living
L'Upcycling, la nouvelle tendance design 2010 | Régie publicitaire presse & web | EXPRESS ROULARTA SERVICES