SOCIAL MEDIA
Les vrais chiffres de Twitter - Blogs tEchosphère
Infographic: Asia-Pacific Social Media Statistics 
Internet usage is sky-rocketing throughout the Asia-Pacific region, obviously making the growth of social media the fastest in the world, as you'll see, it's not all about Facebook, but it still leads the way across the region, at least for now. This is a nice collective Infographic from Burson-Marsteller. The social media statistics cover the most popular social networks in Australia, China, Hong Kong, India, Indonesia, Japan, Malaysia, Philippines, Singapore, South Korea, Taiwan, Thailand and Vietnam at a top level, but also lists a few basic internet statistics per country, like the total number of people connected to the internet and the top 5 visited websites… Make sure you save this post for later, I'm sure you'll need to reference these stats at some stage in the future! (Thanks Alex/Carly)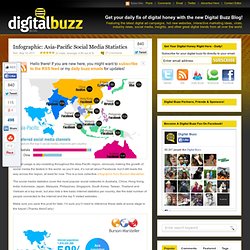 Facebook vs. Twitter is a good one from DigitalSurgeons.com. They've done a great job of compiling the data from at least 10 different sources, to create an overall profile of the standard Facebook and Twitter users. One has over 500 million users, the other just over 100 million. But who are they and what's their behavior? What's their value to a brand?
2010 Facebook vs. Twitter Social Demographics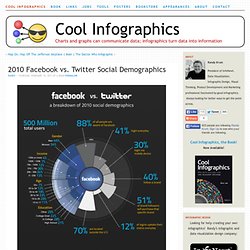 inShare586 2010 will be forever commemorated as the year Twitter matured from a cool but undecided teenager into a more confident and assertive young adult. While there's still much room to mature and develop, Twitter's new direction is crystallizing. With a new look, Dick Costolo as the new CEO, and an oversold new advertising platform, Twitter is growing into something not yet fully identifiable, but formidable nonetheless. At a minimum, Twitter is an extension of each one of us. It feeds our senses and amplifies our voice.
How Twitter is Changing: A new study reveals Twitter's new direction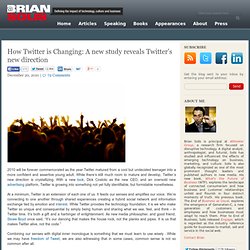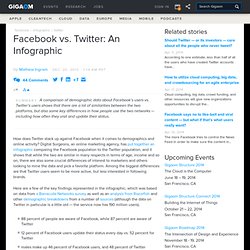 Facebook vs. Twitter: An Infographic: Tech News «
How does Twitter stack up against Facebook when it comes to demographics and online activity? Digital Surgeons, an online marketing agency, has put together an infographic comparing the Facebook population to the Twitter population, and it shows that while the two are similar in many respects in terms of age, income and so on, there are also some crucial differences of interest to marketers and others looking to mine the data and pick a favorite platform. Among the biggest differences are that Twitter users seem to be more active, but less interested in following brands. Here are a few of the key findings represented in the infographic, which was based on data from a Barracuda Networks survey as well as an analysis from Razorfish and other demographic breakdowns from a number of sources (although the data on Twitter in particular is a little old — the service now has 190 million users).