SOCIAL MEDIA + TV
MIT Startup Matches TV With Social Conversation | Digital. NCIS, Idol Top TVGuide.com's List of the Most Social Shows. Pauley Perrette and Mark Harmon Social network discussions about television shows drove more live viewing and second-screen engagement during the 2010-2011 television season, according to a TVGuide.com user research study that ranks the year's top 10 most social shows.
Twenty percent of respondents said they are now watching more live TV to avoid plot and reality "spoilers" that may be revealed in real time by members of their social networks. At the same time, TVGuide.com, which has more than 23 million monthly unique users, found that users are spending more time engaging in TV discussions with their social networks, with more using Twitter than Facebook for those discussions.
The top 10 most social shows of the 2010-2011 season, based on TVGuide.com episode check-ins, Facebook Likes and comments on the site are: 1. Everything is social so now what? TV is social.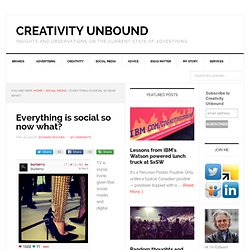 Ironic given that social media and digital distractions were supposed to kill TV. Instead, as Fast Company tells us, appointment viewing is back. Why? So we can tweet with our friends while we watch. 1.65 Billion Likes of TV Shows Indicates Facebook's Importance to Television. At the TV of Tomorrow conference today in San Francisco, Facebook's Director of Media Partnerships Justin Osofsky revealed that 275 million users have Liked a TV show on Facebook.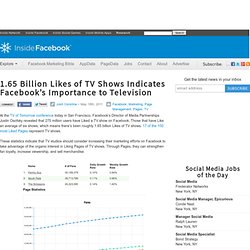 Those that have Like an average of six shows, which means there's been roughly 1.65 billion Likes of TV shows. 17 of the 100 most Liked Pages represent TV shows. These statistics indicate that TV studios should consider increasing their marketing efforts on Facebook to take advantage of the organic interest in Liking Pages of TV shows. Through Pages, they can strengthen fan loyalty, increase viewership, and sell merchandise. With DVD sales slipping and more viewers moving towards online streaming services such as Netflix and Hulu that earn less for content producers and studios, the TV industry needs to keep fan loyalty high. Liking a TV show has become a common practice — not one reserved for just a show's biggest fans, causing Facebook Pages to emerge as a powerful medium for increasing this loyalty.
---