SOCIAL MEDIA + TV
MIT Startup Matches TV With Social Conversation | Digital
NCIS, Idol Top TVGuide.com's List of the Most Social Shows
Pauley Perrette and Mark Harmon Social network discussions about television shows drove more live viewing and second-screen engagement during the 2010-2011 television season, according to a TVGuide.com user research study that ranks the year's top 10 most social shows.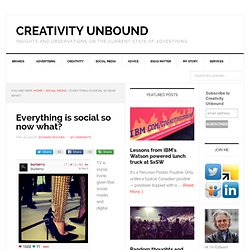 TV is social.
Everything is social so now what?
At the TV of Tomorrow conference today in San Francisco, Facebook's Director of Media Partnerships Justin Osofsky revealed that 275 million users have Liked a TV show on Facebook. Those that have Like an average of six shows, which means there's been roughly 1.65 billion Likes of TV shows. 17 of the 100 most Liked Pages represent TV shows.
1.65 Billion Likes of TV Shows Indicates Facebook's Importance to Television