PREDICTIONS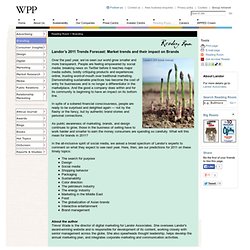 Landor's 2011 Trends Forecast: Market trends and their impact on Brands by Landor
Over the past year, we've seen our world grow smaller and more transparent. People are feeling empowered by social media: breaking news on Twitter before it reaches major media outlets, boldly critiquing products and experiences online, trusting word-of-mouth over traditional marketing. Demonstrating sustainable practices has become the cost of entry for businesses and is no longer a differentiator in the marketplace. And the good a company does within and for its community is beginning to have an impact on its bottom line.
Check-in - Aujourd'hui - Les 11 tendances 2011 de Marian Salzman
Les 11 tendances 2011 de Marian Salzman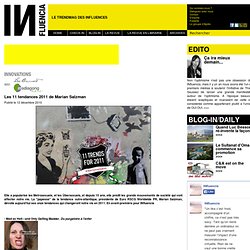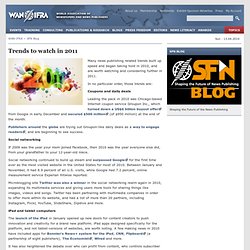 Many news publishing related trends built up speed and began taking hold in 2010, and are worth watching and considering further in 2011. In no particular order, those trends are: Coupons and daily deals Leading the pack in 2010 was Chicago-based Internet coupon service Groupon Inc., which turned down a US$6 billion buyout offer from Google in early December and secured $500 million (of $950 million) at the end of the month. Publishers around the globe are trying out Groupon-like daily deals as a way to engage readers, and are beginning to see success. Social networking
Trends to watch in 2011
5 Crowdsourced Consumer Trends To Watch In 2011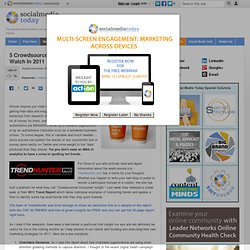 Almost anyone you meet in marketing will usually be a fan of getting their data and insights about major trends in consumer behaviour from research reports. After all, we generally pay a lot of money for them, and (ironically) many of the most authoritative are BRANDED either by a research organization, or by an authoritative institution such as a renowned business school.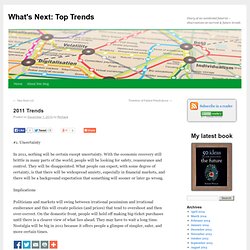 #1. Uncertainty
2011 Trends
#8 "Long land" According to the World Bank, agricultural production must increase by 70% by the year 2050.
Trends for 2011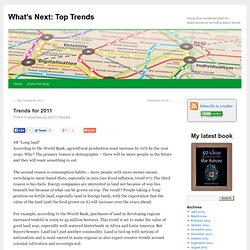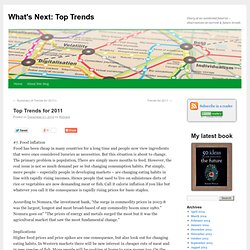 Top Trends for 2011
#7. Food inflation Food has been cheap in many countries for a long time and people now view ingredients that were once considered luxuries as necessities. But this situation is about to change.
#5.
Trends for 2011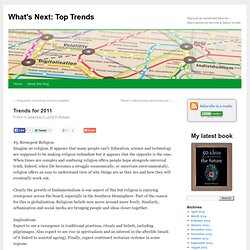 #9 Digital disenchantment Are you sinking in a sea of scurrilous spam? How about drowning in deluge of digital dross? The internet, and Web 2.0 in particular, are wonderful things, but there are digital downsides, notably the fact that people are suffering from too much distraction.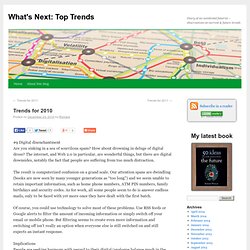 Trends for 2010
Top Trends for 2011
2011 Trends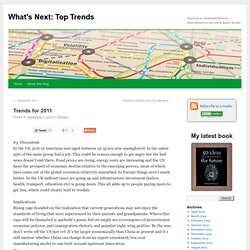 Trends for 2011
#3.
Trend #10 – No Trend
Trends for 2011
Click through a few years and suddenly the media landscape looks profoundly altered and punished, like a place where a serious earthquake was followed by a tsunami. News about the news business, once a rare commodity, now comes out of a fire hose, with many days bringing yet another shift in old paradigms.
Forecasting the Mashup of 2011 — The Media Equation
Trendhunters: 20 ideas for 2011, a little "bureau de tendances" | Trendy Geek
Ipsos publie son observatoire international des tendances émergentes en matière de consommation et de modes de vie (Trend Observer 2011)
Predictions for 2011
influx's 50 predictions for 2011 :: Influxinsights
English not your preferred language? Read this Trend Briefing in:
Léa SeydouxJanuary 2, 2014 | 6:44 pm This young actress rose to fame with the 2013 French film Blue Is the Warmest Color, for which she won the Palme d'Or at last year's Cannes film festival alongside co-star Adèle Exarchopoulos and director Abdellatif Kechiche. In 2014, we'll see Seydoux in two French films—a new take on Beauty and the Beast and Saint Laurent, a biopic about the French designer—as well as Wes Anderson's much-anticipated The Grand Budapest Hotel. —Will PalleyImage credit: ASOS Tablet shopping takes offDecember 19, 2013 | 5:15 pm In our 100 Things to Watch in 2013 list, we wrote that tablet commerce would take off as a wider array of consumers adopted tablets and more retailers embraced the platform's opportunities.
100 things to watch in 2011
Summary of Trends for 2011+
10 Predictions for the News Media in 2011