PREDICTIONS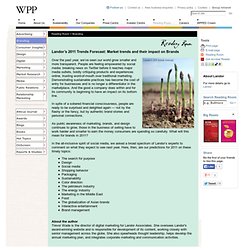 Landor's 2011 Trends Forecast: Market trends and their impact on Brands by Landor
Over the past year, we've seen our world grow smaller and more transparent. People are feeling empowered by social media: breaking news on Twitter before it reaches major media outlets, boldly critiquing products and experiences online, trusting word-of-mouth over traditional marketing. Demonstrating sustainable practices has become the cost of entry for businesses and is no longer a differentiator in the marketplace. And the good a company does within and for its community is beginning to have an impact on its bottom line. In spite of a sobered financial consciousness, people are ready to be surprised and delighted again — not by the flashy or the fancy, but by authentic brand stories and personal connections. As public awareness of marketing, brands, and design continues to grow, those in the business of selling have to work harder and smarter to earn the money consumers are spending so carefully.
Check-in - Aujourd'hui - Les 11 tendances 2011 de Marian Salzman
<a href="http://www4.smartadserver.com/call/pubjumpi/17868/127461/7903/M/1364764018/?"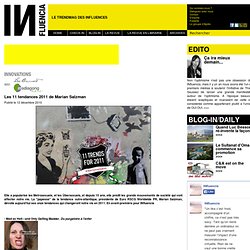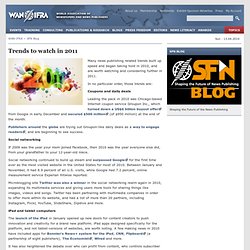 Many news publishing related trends built up speed and began taking hold in 2010, and are worth watching and considering further in 2011. In no particular order, those trends are: Coupons and daily deals Leading the pack in 2010 was Chicago-based Internet coupon service Groupon Inc., which turned down a US$6 billion buyout offer from Google in early December and secured $500 million (of $950 million) at the end of the month. Publishers around the globe are trying out Groupon-like daily deals as a way to engage readers , and are beginning to see success. Social networking
Trends to watch in 2011
5 Crowdsourced Consumer Trends To Watch In 2011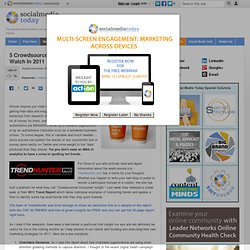 Almost anyone you meet in marketing will usually be a fan of getting their data and insights about major trends in consumer behaviour from research reports. After all, we generally pay a lot of money for them, and (ironically) many of the most authoritative are BRANDED either by a research organization, or by an authoritative institution such as a renowned business school.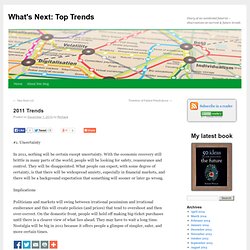 #1. Uncertainty
2011 Trends
#8 "Long land" According to the World Bank, agricultural production must increase by 70% by the year 2050.
Trends for 2011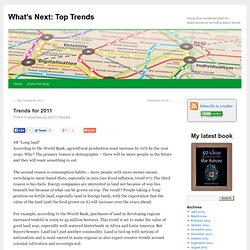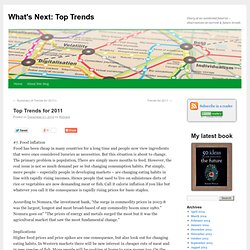 Top Trends for 2011
#7. Food inflation Food has been cheap in many countries for a long time and people now view ingredients that were once considered luxuries as necessities. But this situation is about to change.
#5.
Trends for 2011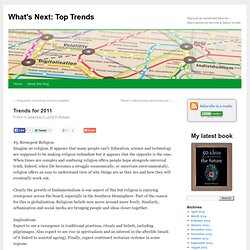 #9 Digital disenchantment Are you sinking in a sea of scurrilous spam? How about drowning in deluge of digital dross? The internet, and Web 2.0 in particular, are wonderful things, but there are digital downsides, notably the fact that people are suffering from too much distraction.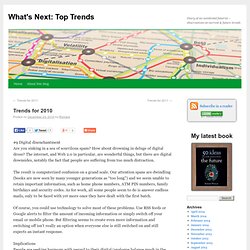 Trends for 2010
Top Trends for 2011
2011 Trends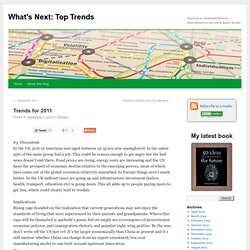 Trends for 2011
#3.
Trend #10 – No Trend
Trends for 2011
Click through a few years and suddenly the media landscape looks profoundly altered and punished, like a place where a serious earthquake was followed by a tsunami. News about the news business, once a rare commodity, now comes out of a fire hose, with many days bringing yet another shift in old paradigms.
Forecasting the Mashup of 2011 — The Media Equation
Trendhunters: 20 ideas for 2011, a little "bureau de tendances" | Trendy Geek
Ipsos publie son observatoire international des tendances émergentes en matière de consommation et de modes de vie (Trend Observer 2011)
Predictions for 2011
influx's 50 predictions for 2011 :: Influxinsights
Introduction | Another year, another roller coaster of threats and opportunities. We tend to focus on the latter as, amidst currency wars and defaulting nations, there are more opportunities than ever for creative brands and entrepreneurs to deliver on changing consumer needs.
Transient hotels March 21, 2013 | 4:15 pm These days, it's hotels that are on the move, not the guests.
100 things to watch in 2011
Summary of Trends for 2011+
10 Predictions for the News Media in 2011