METRICS
Posted in Tech blog on January 17th, 2012 by Pingdom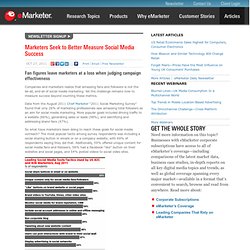 Companies and marketers realize that amassing fans and followers is not the be-all, end-all of social media marketing.
Marketers Seek to Better Measure Social Media Success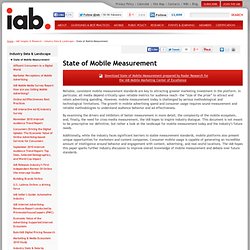 State of Mobile Measurement
Reliable, consistent mobile measurement standards are key to attracting greater marketing investment in the platform.
Press Widely Criticized, But Trusted More than Other Information Sources
Released: September 22, 2011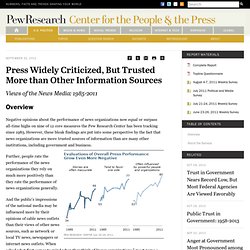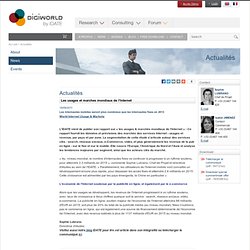 Les usages et marches mondiaux de l'Internet 19/09/2011 Les internautes mobiles seront plus nombreux que les internautes fixes en 2013 World Internet Usage & Markets L'IDATE vient de publier son rapport sur « les usages & marchés mondiaux de l'Internet » : Ce rapport fournit les données et prévisions des marchés des services Internet - usages et revenus, par pays et par zone.
Consulting and Research: Telecoms, Internet, Media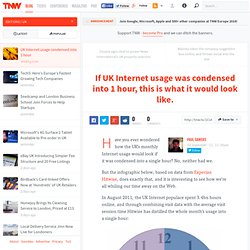 What UK Internet usage would look like condensed into 1 hour - TNW UK
Have you ever wondered how the UK's monthly Internet usage would look if it was condensed into a single hour?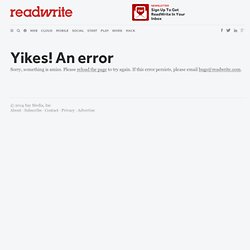 Advertising to Facebook Fans Improves Conversions, Says Study
The cost of converting people to sign-up for events, purchase products and register for services decreases considerably when businesses run Facebook advertisements that target existing fans, as opposed to non-fans.
Value of a Fan
How TV programmes are discussed on Twitter (click for larger image). Source: TV Genius Not so very long ago television producers and film-makers were thrilled if their projects had the "water cooler effect" – that is to say the show, the programme or the film became a topic of conversation or chatter among people in offices, bars or the home. Nowadays the conversations with the most clout are increasingly taking place among social network communities gathering online to take the "water cooler effect" into the twittersphere and on to the many pages of Facebook.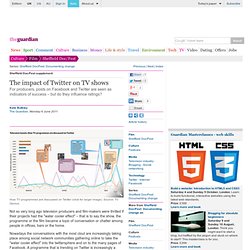 The impact of Twitter on TV shows | Film
Sometimes it's easy to know which messages will spread through Twitter like wildfire.
Tracking Down Twitter's Best Rumor Spreaders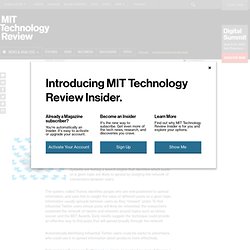 The Newsonomics of 2011 news metrics to watch » Nieman Journalism Lab » Pushing to the Future of Journalism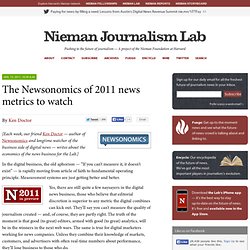 [Each week, our friend Ken Doctor — author of Newsonomics and longtime watcher of the business side of digital gnus — writes about the economics of the gnus business for the Lab.] In the digital business, the old aphorism — "If you can't measure it, it doesn't exist" — is rapidly moving from article of faith to fundamental operating principle. Measurement systems are just getting better and better. Yes, there are still quite a few naysayers in the digital gnus business, those who believe that editorial discretion is superior to any metric the digital combines can kick out.
tp://fr.mashable.com/2011/03/27/etude-sur-les-taux-de-clics-des-articles-publies-par-mashable-us-sur-twitter-facebook-un-rapport-de-1-a-87/