INCIDENCE CONSO DIGITALE
Joichi Ito - Innovating by the Seat of Our Pants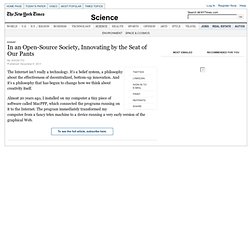 Almost 20 years ago, I installed on my computer a tiny piece of software called MacPPP, which connected the programs running on it to the Internet. The program immediately transformed my computer from a fancy telex machine to a device running a very early version of the graphical Web.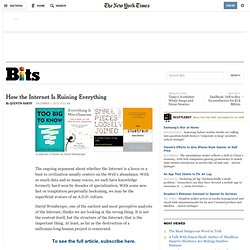 How the Internet Is Ruining Everything
A selection of books by David Weinberger. Facebook Twitter Google+ Save E-mail Share Print The ongoing argument about whether the Internet is a boon or a bust to civilization usually centers on the Web's abundance.
La lecture de la semaine, il s'agit de quelques extraits d' un entretien que Cathy Davidson a donné le 21 août dernier au magazine en ligne Salon . Cathy Davidson enseigne les études interdisciplinaires à l'Université de Duke en Caroline du Nord et elle est l'auteure d'un livre intitulé Now you see it qui traite de la manière dont les travaux sur l'attention vont transformer notre manière de vivre, de travailler et de penser.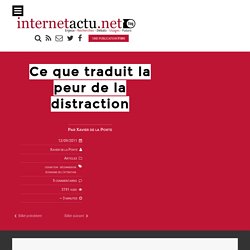 Pour l'été, InternetActu vous propose de revenir sur les usages d'internet en compagnie de quelques-uns des chercheurs, sociologues, anthropologues, psychologues qui nous aident à comprendre l'internet. A l'occasion de la parution des Liaisons numériques , vers une nouvelle sociabilité ? ( Amazon ), aux éditions du Seuil, nous avons rencontré son auteur, le chercheur en sociologie, Antonio Casilli ( blog ).
Antonio Casilli : « Le web reconfigure notre manière de faire société »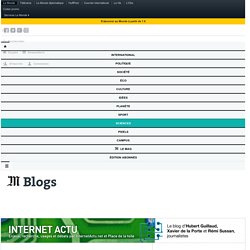 A young woman checks her Facebook page on an iPad2.
Logging on to computers helps us get out more, insist economists | Technology | The Observer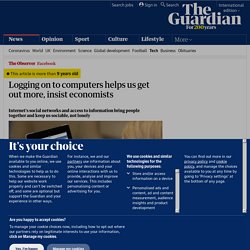 Sean Carton | August 1, 2011 | 0 Comments <a href="http://ad.doubleclick.net/jump/clickz.us/marketing/strategies;page=article;artid=2098072;topcat=marketing;cat=strategies;static=;sect=site;tag=publishing;tag=tv;tag=crm;pos=txt1;tile=8;sz=2x1;ord=123456789?"
7 Radical Disruptions to Business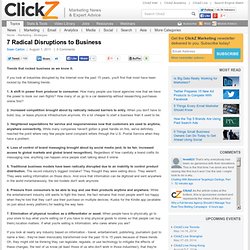 New McKinsey research highlights a dramatic increase in the intensity with which people use digital devices and platforms. Nearly 50 percent of US online consumers are now advanced users of smartphones, social networks, and other emerging tools—up from 32 percent in 2008.
Are your customers becoming digital junkies? - McKinsey Quarterly - Marketing & Sales - Digital Marketing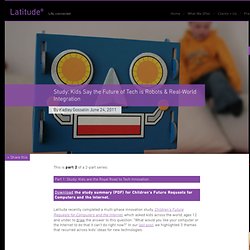 Study: Kids Say the Future of Tech is Robots & Real-World Integration
+ Share this Latitude recently completed a multi-phase innovation study, Children's Future Requests for Computers and the Internet , which asked kids across the world, ages 12 and under, to draw the answer to this question: "What would you like your computer or the Internet to do that it can't do right now?" In our last post , we highlighted 3 themes that recurred across kids' ideas for new technologies:
Digital Oxytocin: How Trust Keeps Facebook, Twitter Humming
The most surprising takeaway from the recent Pew Research Center study, " Social Networking Sites and Our Lives ," wasn't that 80% of Americans regularly use the Internet or that 60% of web users have a social network account--double the number in 2008, with the vast majority on Facebook (52%) and Twitter (33%). Nor is it that people have gone gaga over smartphones, with one in three Americans owning one. Rather, it's the idea that the Internet, in particular social networks, engender trust, and the more time you spend on them the more trusting you become.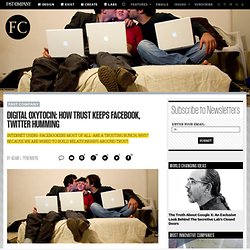 Texters : un album
Les blogueurs à la lumière de leur écran
La photographe américaine Gabriela Herman a photographié un blogueur qui lui en a recommandé un autre, et ainsi de suite. Le résultat est une série de portraits à la lumière des écrans, un voyage intimiste entre online et offline.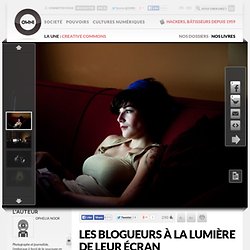 Gabriela Herman
SoLoMo - NYTimes.com
Portmanteau term for the meeting of S ocial, L ocal and M obile media.
« Smart » ! Le mot résume bien la nouvelle vague d'innovations technologiques, d'appareils communicants et d'usages inédits d'une révolution numérique qui déferle aujourd'hui autour des écrans, avant d'envahir notre quotidien des prochaines années.
Electronic Devices Redefine Quality Family Time
Yana Paskova for The New York Times