IKEA
Smallest store in the world. IKEA Starts 'How to Build' YouTube Channel to Help Frustrated Customers. We've all been there: Standing forlorn in a bedroom, staring at the unused screws sitting next to a half-finished IKEA bed, parts mixed up with the ones for an unbuilt MALM three-drawer chest.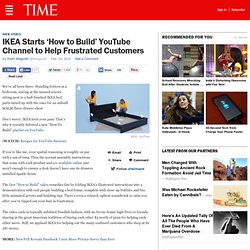 Don't worry, IKEA feels your pain. That's why it recently debuted a new "How To Build" playlist on YouTube. Carl Kleiner for IKEA. IKEA Wants Facebook Fans to Bring Friends to Stores. Christopher Heine | December 20, 2011 | 0 Comments inShare76 Retailer's early 2012 effort combines individual stores with like-gating and philanthropy.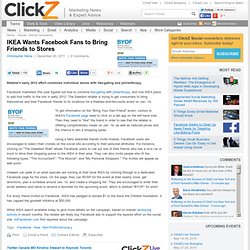 Facebook marketers this year figured out how to combine like-gating with philanthropy, and now IKEA plans to add foot traffic to the mix in early 2012. The Swedish retailer is trying to get consumers to bring themselves and their Facebook friends to its locations for a freebies-and-discounts event on Jan. 14. To get information on the "Bring Your Own Friend" event, visitors to IKEA's Facebook page need to click on a tab app on the left-hand side. IKEA - Captez la lumière 1/48 (FR) IKEA Places Sofa In Real-Estate Ads. Scandinavian furniture store IKEA gets innovative and turns real homes in Norway into showrooms.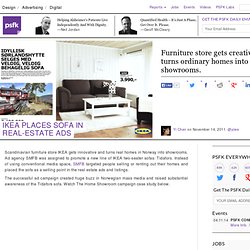 Ad agency SMFB was assigned to promote a new line of IKEA two-seater sofas: Tidafors. Instead of using conventional media space, SMFB targeted people selling or renting out their homes and placed the sofa as a selling point in the real estate ads and listings. The successful ad campaign created huge buzz in Norwegian mass media and raised substantial awareness of the Tidafors sofa.
Watch The Home Showroom campaign case study below. IKEA Trials MÄNLAND, A Male Crèche With TV & Games. IKEA launched MÄNLAND at its Homebush Bay Drive store in Australia over the weekend.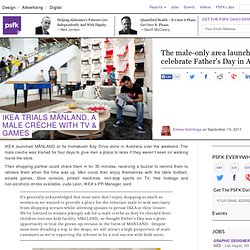 The male creche was trialled for four days to give men a place to relax if they weren't keen on walking round the store. Their shopping partner could check them in for 30 minutes, receiving a buzzer to remind them to retrieve them when the time was up. Men could then enjoy themselves with the table football, arcade games, Xbox console, pinball machines, non-stop sports on TV, free hotdogs and non-alcoholic drinks available. Jude Leon, IKEA's PR Manager, said: It's generally acknowledged that most men don't enjoy shopping as much as women so we wanted to provide a place for the reluctant male to seek sanctuary from shopping stresses whilst allowing spouses to peruse IKEA at their leisure.
IKEA introduces MANLAND, the creche for retail-weary men. IKEA "The world's most liked showroom" On buzze - IKEA et son «aire de la sieste» sur l'autoroute A6. Publié le 04 juillet 2011 Le géant du mobilier lance le premier hôtel capsules éphémère gratuit qui offre aux vacanciers la possibilité de faire un petit somme de 20 minutes pendant leur trajet.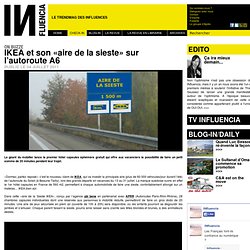 «Dormez, partez reposé»: c'est le nouveau claim de IKEA, qui va investir la principale aire (plus de 60 000 véhicules/jour durant l'été) de l'autoroute du Soleil (à Beaune-Tailly), lors des grands départs en vacances du 13 au 31 juillet. IKEA Share Space. IKEA: Your Personalized IKEA Bedroom - Interactive (image) Chaîne de ikeauk. Welcome to YouTube!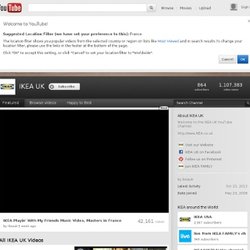 The location filter shows you popular videos from the selected country or region on lists like Most Viewed and in search results.To change your location filter, please use the links in the footer at the bottom of the page. Click "OK" to accept this setting, or click "Cancel" to set your location filter to "Worldwide".
---