HABILLEMENT
Sociétés : Quand Patagonia appelle à ne pas acheter ses produits. Dans une publicité, la marque californienne enjoint ses clients à bouder ses vêtements, arguant leur coût environnemental.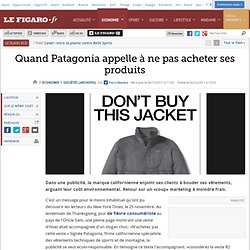 Retour sur un «coup» marketing à moindre frais. C'est un message pour le moins inhabituel qu'ont pu découvrir les lecteurs du New York Times, le 25 novembre. Au lendemain de Thanksgiving, jour de fièvre consumériste au pays de l'Oncle Sam, une pleine page montrant une veste d'hiver était accompagnée d'un slogan choc: «N'achetez pas cette veste.» Signée Patagonia, firme californienne spécialiste des vêtements techniques de sports et de montagne, la publicité se veut écolo-responsable. BLOG-IN / DAILY - Longchamp présente «Heels», une web série sur aufeminin.com. Publié le 28 novembre 2011 Oyez bonnes gens la terrible histoire d'une jeune rédactrice de mode du magazine SHINE et de ses relations tumultueuses avec son ennemie jurée, la machiavélique Trisha Barton.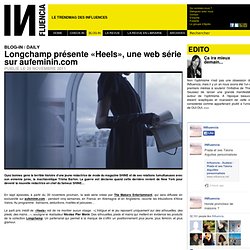 La guerre est déclarée quand cette dernière revient de New York pour devenir la nouvelle rédactrice en chef du fameux SHINE… En sept épisodes, à partir du 30 novembre prochain, la web série créée par The Makers Entertainment, qui sera diffusée en exclusivité sur aufeminin.com , pendant cinq semaines, en France, en Allemagne et en Angleterre, raconte les tribulations d'Alice Valois. Au programme : trahisons, séductions, rivalités et jalousies… Don't Buy Patagonia Stuff New Unless You Really Need It | Climbing. Don't Buy Patagonia Stuff New Unless You Really Need It By Gear Shed Tonight, Patagonia and eBay announced a new partnership, the Common Threads Initiative.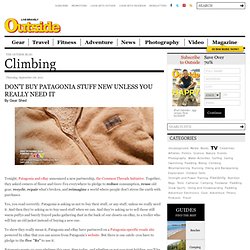 Top des campagnes digitales Luxe, Parfums et Cosmétiques. On termine la série de sélection des meilleures campagnes de marketing interactif avec cette petite liste d'opérations et de campagnes récentes dans les domaines du luxe, des parfums et des cosmétiques.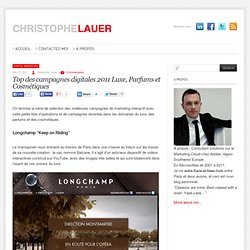 Longchamp "Keep on Riding" Le maroquinier nous entraine au travers de Paris dans une chasse au trésor sur les traces de sa nouvelle création : le sac nommé Balzane. Il s'agit d'un asticieux dispositif de vidéos intéractives construit sur YouTube, avec des images très belles et qui sont totalement dans l'esprit de ces univers du luxe. Converse's 'Take it Outside' Treasure Hunt. A great competition from Converse.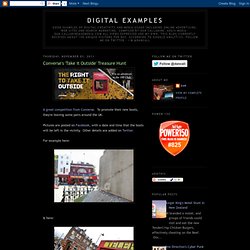 To promote their new boots, they're leaving some pairs around the UK. Pictures are posted on Facebook, with a date and time that the boots will be left in the vicinity. Other details are added on Twitter. For example here: Patagonia: Building A Strong Brand Out Of Old Clothes | Sustainable Life Media. Every once in a while, a completely counterintuitive idea comes along, shakes up our assumptions, and becomes the new normal.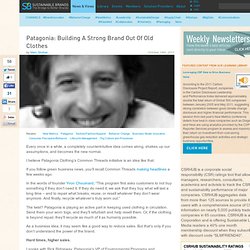 I believe Patagonia Clothing's Common Threads initiative is an idea like that. If you follow green business news, you'll recall Common Threads making headlines a few weeks ago. In the words of founder Yvon Chouinard, "This program first asks customers to not buy something if they don't need it. If they do need it, we ask that they buy what will last a long time – and to repair what breaks, reuse, or resell whatever they don't wear anymore. And finally, recycle whatever's truly worn out." Bloggers Mean Business. There was a moment after New York's 2009 Fall Fashion Week when fashion bloggers had officially, as the press likes to call it, "arrived."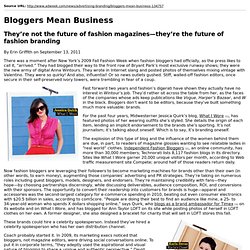 They had blogged their way to the front row of Bryant Park's most exclusive runway shows; they were the new army of digital Anna Wintours. They wrote in Internet slang and posted photos of themselves mixing vintage with Valentino.
CHANEL
Nverse.com: Home. From Zappos, an Unadorned Pitch in Selling Clothes. The campaign was created by Mullen, the company's agency of record and part of the Interpublic Group of Companies, and is intended to highlight the company's apparel.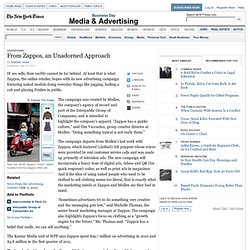 "Zappos has a quirky culture," said Tim Vaccarino, group creative director at Mullen. "Doing something typical is not really them." The campaign departs from Mullen's last work with Zappos, which featured (clothed) felt puppets whose voices were provided by real customer service calls and was made up primarily of television ads. The new campaign will incorporate a heavy dose of digital ads, videos and QR (for quick response) codes, as well as print ads in magazines.
Fashion brands falling in love with Instagram. TNW had a great article a few days ago on the brands that are moving the first steps on Instagram.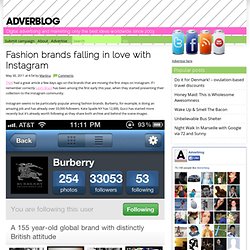 If I remember correctly Levi's Brazil has been among the first early this year, when they started presenting their collection to the Instagram community. Instagram seems to be particularly popular among fashion brands. Burberry, for example, is doing an amazing job and has already over 33,000 followers. Adidas France 3D Mapping Projection. Nike x colette: The Away Project Retail Space. Following a preview of earlier in the month, we now take a look into the actual retail space which houses The Away Project, a joint venture between Nike and Parisian boutique colette.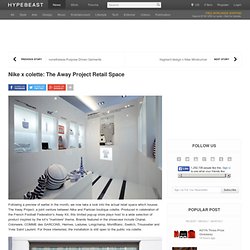 Produced in celebration of the French Football Federation's Away Kit, this limited pop-up store plays host to a wide selection of product inspired by the kit's "mariniere" theme. Brands featured in the showcase include Chanel, Colorware, COMME des GARCONS, Hermes, Laduree, Longchamp, MontBlanc, Swatch, Trousselier and Yves Saint Laurent. For those interested, the installation is still open to the public via colette. Source: La MJC. Repetto lance un atelier de personnalisation qui voyagera tous les mois. Après un essai lors de la Fashion Week Printemps/Été 2011 à Paris dans sa boutique de la rue de la Paix, Repetto lance une version éphémère et mobile de son service de personnalisation. Une belle opération qui répond aux besoins des consommateurs qui recherchent toujours plus de produits "uniques" et personnalisés. Ce mois-ci, l'atelier va poser ses valises aux Galeries Lafayette Haussmann. Jusqu'au 23 avril, vous pourrez choisir parmi un large choix de modèles et plus de 250 couleurs de cuir pour créer votre paire idéale de ballerines.
Le détail en plus ? Le talon de chaque chaussure créée dans cet atelier sera incrusté d'un R doré (photo ci-contre).
---