GOOGLE +
Why we shouldn't be so quick to write Google+ off
Although Google+ is still only a few months old, there seem to be plenty of people willing to write it off as doomed, or close to it. Steve Rubel of Edelman says that he has given up on it, Robert Scoble says its brand pages are a mess, and Farhad Manjoo at Slate argues it's all but dead, killed by its failure to offer enough right out of the gate.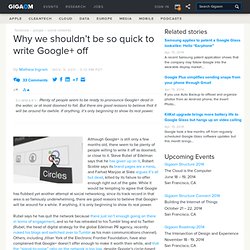 Google+ for brands
inShare476 The question seems premature or perhaps over dramatized, but I ask it with all sincerity.
Study: Will You Abandon Facebook in Favor of Google+? Brian Solis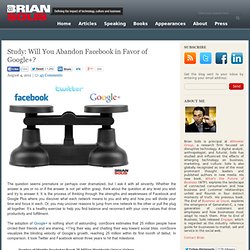 Voilà presque un mois que Google a lancé sa plateforme sociale Google+ : Google lance sa plateforme sociale unifiée Google+.