GOOGLE +
Why we shouldn't be so quick to write Google+ off
Although Google+ is still only a few months old, there seem to be plenty of people willing to write it off as doomed, or close to it. Steve Rubel of Edelman says that he has given up on it , Robert Scoble says its brand pages are a mess , and Farhad Manjoo at Slate argues it's all but dead , killed by its failure to offer enough right out of the gate.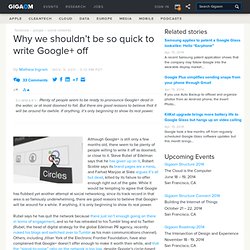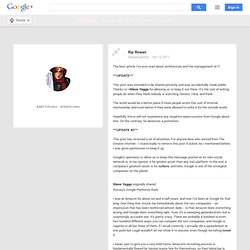 Stevey's Google Platforms Rant I was at Amazon for about six and a half years, and now I've been at Google for that long. One thing that struck me immediately about the two companies -- an impression that has been reinforced almost daily -- is that Amazon does everything wrong, and Google does everything right.
Google+ for brands
The question seems premature or perhaps over dramatized, but I ask it with all sincerity. Whether the answer is yes or no or if the answer is not yet within grasp, think about the question at any level you wish and try to answer it.
Study: Will You Abandon Facebook in Favor of Google+? Brian Solis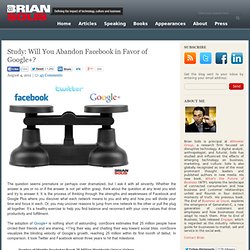 Voilà presque un mois que Google a lancé sa plateforme sociale Google+ : Google lance sa plateforme sociale unifiée Google+ .