FACEBOOK
Facebook reveals its top 20 most shared articles in the UK. Facebook has revealed the 20 articles that have been shared the most by UK users this year.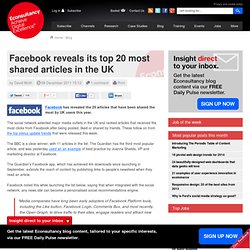 The social network selected major media outlets in the UK and ranked articles that received the most clicks from Facebook after being posted, liked or shared by friends. These follow on from the top status update trends that were released this week. 4 qualities of Facebook's most-shared stories. Most Shared Articles on Facebook in 2011. Les 4,74 degrés de séparation de Facebook. Le développement du réseau social sur internet Facebook a conduit à réviser la théorie selon laquelle il existerait «six degrés de séparation» entre tous les individus, une étude de l'Université de Milan ayant déterminé que le site avait ramené ce chiffre à 4,74.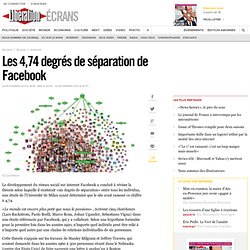 «Le monde est encore plus petit que nous le pensions» , écrivent cinq chercheurs (Lars Backstrom, Paolo Bodli, Marco Rosa, Johan Ugander, Sebastiano Vigna) dans une étude référencée par Facebook, qui y a collaboré. Selon une hypothèse formulée pour la première fois dans les années 1920, n'importe quel individu peut être relié à n'importe quel autre par une chaîne de relations individuelles de six personnes.
Cette théorie s'appuie sur les travaux de Stanley Milgram et Jeffrey Travers, qui avaient demandé dans les années 1960 à 300 personnes vivant dans le Nebraska (centre des Etats-Unis) de faire parvenir une lettre à quelqu'un à Boston (Massachusetts, nord-est) par l'intermédiaire de connaissances. Station: The UnFacebook World.
5 ways Facebook is changing search marketing. Make no mistake about it: Google is still the dominant force in search engine marketing.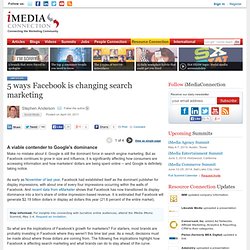 But as Facebook continues to grow in size and influence, it is significantly affecting how consumers are accessing information and how marketers' dollars are being spent online -- and Google is definitely taking notice. As early as November of last year, Facebook had established itself as the dominant publisher for display impressions, with about one of every four impressions occurring within the walls of Facebook. And recent data from eMarketer shows that Facebook has now transitioned its display dominance into a lion's share of online impression-based revenue.
It is estimated that Facebook will generate $2.19 billion dollars in display ad dollars this year (21.6 percent of the entire market). To Spread Your Brand On Facebook, Don't Target Your Fans--Target Their Friends. Forget Facebook fans; brands need to target the friends of fans.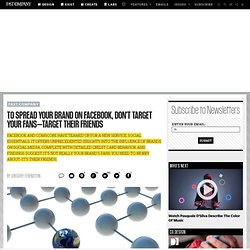 That's the takeaway of Social Essentials, a new service provided by ComScore, with help from Facebook. The service offers unprecedented insights into the influence of brands through social media, complete with detailed credit card behavior that can link web browsing patterns to purchase decisions. The F-Commerce FAQ.
---