FACEBOOK
Facebook reveals its top 20 most shared articles in the UK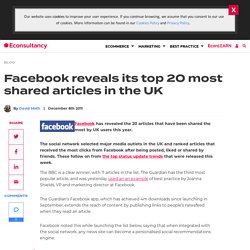 Facebook has revealed the 20 articles that have been shared the most by UK users this year. The social network selected major media outlets in the UK and ranked articles that received the most clicks from Facebook after being posted, liked or shared by friends. These follow on from the top status update trends that were released this week. The BBC is a clear winner, with 11 articles in the list. The Guardian has the third most popular article, and was yesterday used an an example of best practice by Joanna Shields, VP and marketing director at Facebook. The Guardian's Facebook app, which has achieved 4m downloads since launching in September, extends the reach of content by publishing links to people's newsfeed when they read an article.
4 qualities of Facebook's most-shared stories
Most Shared Articles on Facebook in 2011
Les 4,74 degrés de séparation de Facebook
By using our site, you consent to this privacy policy: This website allows third-party advertising companies for the purpose of reporting website traffic, statistics, advertisements, "click-throughs" and/or other activities to use Cookies and /or Web Beacons and other monitoring technologies to serve ads and to compile anonymous statistics about you when you visit this website. Cookies are small text files stored on your local internet browser cache. A Web Beacon is an often-transparent graphic image, usually no larger than 1 pixel x 1 pixel that is placed on a Web site. Both are created for the main purpose of helping your browser process the special features of websites that use Cookies or Web Beacons. The gathered information about your visits to this and other websites are used by these third party companies in order to provide advertisements about goods and services of interest to you.
Station: The UnFacebook World
Make no mistake about it: Google is still the dominant force in search engine marketing. But as Facebook continues to grow in size and influence, it is significantly affecting how consumers are accessing information and how marketers' dollars are being spent online -- and Google is definitely taking notice. As early as November of last year , Facebook had established itself as the dominant publisher for display impressions, with about one of every four impressions occurring within the walls of Facebook. And recent data from eMarketer shows that Facebook has now transitioned its display dominance into a lion's share of online impression-based revenue. It is estimated that Facebook will generate $2.19 billion dollars in display ad dollars this year (21.6 percent of the entire market).
5 ways Facebook is changing search marketing
Forget Facebook fans; brands need to target the friends of fans. That's the takeaway of Social Essentials, a new service provided by ComScore, with help from Facebook.
To Spread Your Brand On Facebook, Don't Target Your Fans--Target Their Friends
The F-Commerce FAQ