DIGITAL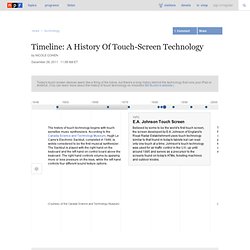 1948 The Electronic Sackbut The history of touch technology begins with touch-sensitive music synthesizers.
Timeline: A History Of Touch-Screen Technology
Robert McDonald is a CEO on a mission: to make Procter & Gamble the most technologically enabled business in the world. To get there, the 31-year company veteran and former US Army captain is overseeing the large-scale application of digital technology and advanced analytics across every aspect of P&G's operations and activities—from the way the consumer goods giant creates molecules in its R&D labs to how it maintains relationships with retailers, manufactures products, builds brands, and interacts with customers. The prize: better innovation, higher productivity, lower costs, and the promise of faster growth.
Inside P&G's digital revolution - McKinsey Quarterly - Retail & Consumer Goods - Strategy & Analysis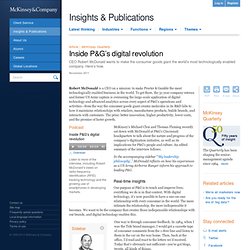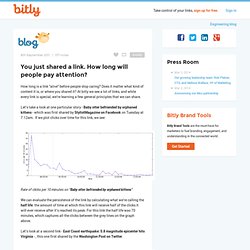 You just shared a link. How long will people pay attention?
How long is a link "alive" before people stop caring?
It has become common wisdom in the tech world that old media represents an obsolete mode of thinking that should be discarded as quickly as possible. The attitude to physical, broadcast or film media could generally be summed up by saying "Newspapers?
Three Things The Web Can Learn from Old Media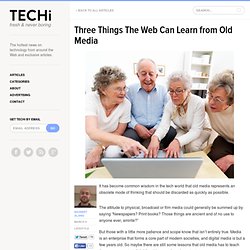 The Interconnected World of Tech Companies [INFOGRAPHIC]
The "tech world" is really more of a "tech family." Between digital giants' appetites for acquisitions and the tendency of their ex-employees to start new companies, it's easy to see how nearly every blip in the ecosystem is closely related. We've mapped just a few of these family ties between "Xooglers," the "PayPal Mafia", "Softies" and the many other tech connectors who have yet to be nicknamed.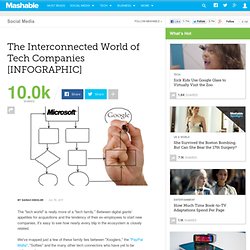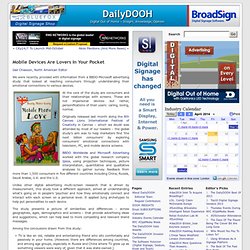 Mobile Devices Are Lovers In Your Pocket
Gail Chiasson, North American Editor
www.mitre.org/work/tech_papers/2011/11_0170/11_0170.pdf
How do readers get to news sites? How long do they stay once there?
The 5 must-knows about how readers navigate news online, drawn from new Pew study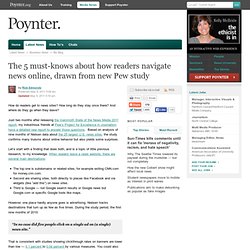 J'ai le plaisir de partager avec vous cette réflexion de Pierre Bellanger, fondateur et PDG de Skyrock, et donc de la plate-forme Skyblog, sur l'avenir des réseaux sociaux. Les premiers services de réseaux sociaux sur Internet ont eu pour promesse initiale d'aider à la mise en relation entre elles de personnes appartenant à des populations définies par un besoin ou une situation.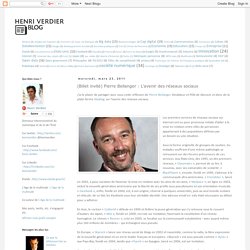 (Billet invité) Pierre Bellanger : L'avenir des réseaux sociaux