DECORATION
Screw*d In The Bayou: Craftsman Gets Real, Interactive. It's a poor workman who appears in a new reality-based campaign for Craftsman.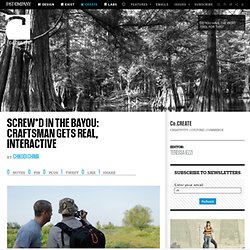 And, if things go wrong, he won't be blaming his tools. The new Craftsman "Screw*d" campaign revolves around Alan Weischedel, an acknowledged un-handy man who today will be dropped deep in the Louisiana bayou to navigate a series of hands-on challenges. Meubles en carton. Pour tous les vendeurs de meubles, la concurrence d'Ikea est difficile à contrer.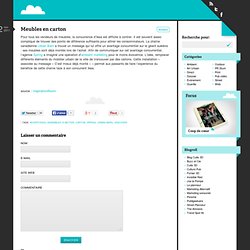 Il est souvent assez compliqué de trouver des points de différence suffisants pour attirer les consommateurs. La chaîne canadienne Urban Barn a trouvé un message qui lui offre un avantage concurrentiel sur le géant suédois : ses meubles sont déjà montés lors de l'achat. Afin de communiquer sur cet avantage concurrentiel, l'agence Spring a imaginé une opération d'ambient marketing pour le moins évocatrice. L'idée, remplacer différents éléments du mobilier urbain de la ville de Vancouver par des cartons. Les Troc'heures : Partagez des heures de bricolage grâce aux Troc'heures.
Habitat's Identikit crisis | Art and design. There has been hand-wringing aplenty since the announcement 10 days ago that Habitat has called in the administrators.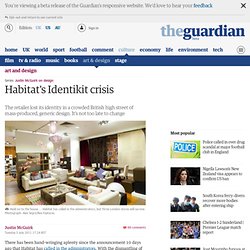 With the dismantling of the UK's venerable high-street design chain and the potential loss of 750 jobs, it's no wonder the media has been quick to hover its magnifying glass over "British design". Yesterday, the Radio 4 programme You and Yours asked, "Has the demise of Habitat damaged Britain's design image? " Fear not: British design is alive and well. But British retail – that's another matter.
---