CONSUMER DECISION JOURNEY
by Adam Richardson | 8:05 AM November 15, 2010 Following on the first article on defining customer experience , this second installment looks at the first essential step of improving the experience you deliver, which is mapping out your customer journey. A customer journey map is a very simple idea: a diagram that illustrates the steps your customer(s) go through in engaging with your company, whether it be a product, an online experience, retail experience, or a service, or any combination.
Using Customer Journey Maps to Improve Customer Experience - Adam Richardson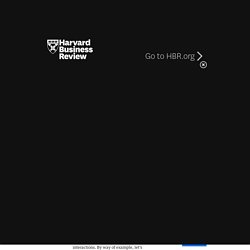 The consumer decision journey - McKinsey Quarterly - Marketing & Sales - Strategy
If marketing has one goal, it's to reach consumers at the moments that most influence their decisions. That's why consumer electronics companies make sure not only that customers see their televisions in stores but also that those televisions display vivid high-definition pictures.
Aligning with the Consumer Journey
Download the PDF of this Idea in Practice . In my December 2010 article " Branding in the Digital Age ," I discussed how consumers today connect with brands in fundamentally new ways, often through media channels that are beyond manufacturers' and retailers' control. Traditional marketing strategies fall short in this new world.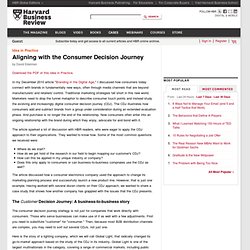 hbrg-main/resources/pdfs/extras/aligning-with-the-consumer-decision-journey.pdf