Consommation
Meet the Urban Datasexual | Endless Innovation. The same cultural zeitgeist that gave us the metrosexual - the urban male obsessive about grooming and personal appearance - is also creating its digital equivalent: the datasexual.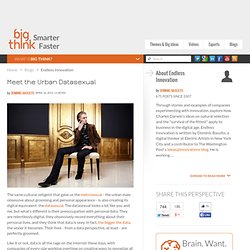 The datasexual looks a lot like you and me, but what's different is their preoccupation with personal data. They are relentlessly digital, they obsessively record everything about their personal lives, and they think that data is sexy. In fact, the bigger the data, the sexier it becomes. Their lives - from a data perspective, at least - are perfectly groomed. Food trends. I'm just putting the finishing touches to a menu of food trends for 2011+ (a collaboration with Charles and Wayne at The Food People).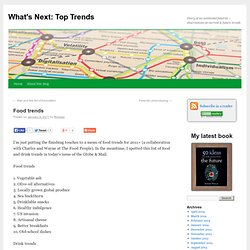 In the meantime, I spotted this list of food and drink trends in today's issue of the Globe & Mail. Food trends 1. Vegetable ash 2. Olive oil alternatives 3. L'OCDE lance un nouveau rapport sur la mesure du bien-être. Retransmission vidéo de la conférence 12/10/2011 - Aimez-vous votre travail ?
Vous sentez-vous en bonne santé ? Passez-vous suffisamment de temps tous les jours avec vos enfants ? Quand vous avez besoin de vos amis, sont-ils présents pour vous ? Avez-vous confiance en vos voisins ? S June 2011 Trend Briefing covering INNOVATION EXTRAVAGANZA. English not your preferred language?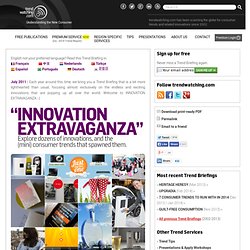 Read this Trend Briefing in: Français 中文 Nederlands Türkçe. KinectShop: The Next Generation Of Shopping [Exclusive Video] Virtual reality shopping just got a lot more real--and could soon become a lot more mainstream.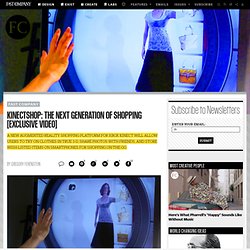 "KinectShop" (working title), an augmented reality shopping platform for the Xbox Kinect, exploits the system's new finger-recognition technology to allow shoppers to grab items from an unlimited shelf of clothes, see how accessories look at multiple angles, and share the photos with friends on Twitter and Facebook for a quick thumbs-up or down.
"The customer can visually see what an object looks like on them without even entering a retail store," Steve Dawson, Technology Director for the Emerging Experiences group at Razorfish tells Fast Company. The future of the world will be Collaborative Consumption - Emmanuel Vivier Lifestream : Buzz, Digital, Viral & social media marketing expert. The 10 Most Innovative Companies in Food. 01 / PepsiCo >> For its ambitious nutrition R&D.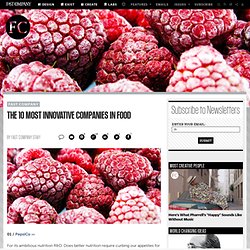 Does better nutrition require curbing our appetites for Cheetos and Fritos and Mountain Dew (oh, my!)? Not if PepsiCo can help it. The snack-food giant recently opened a clinical research center charged with making its products healthier--slashing fat, sugar, and sodium by as much as 25% in the next 10 years--without changing their taste. S February 2011 Trend Briefing covering CITYSUMERS. English not your preferred language?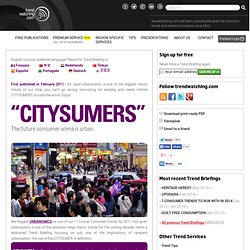 Read this Trend Briefing in: Français 中文 Nederlands. Dissecting the "why" of buy. iMediaConnection: You will be delivering the keynote address at the upcoming iMedia Brand Summit.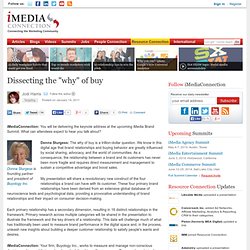 What can attendees expect to hear you talk about? Donna Sturgess: The why of buy is a trillion-dollar question. We know in this digital age that brand relationships and buying behavior are greatly influenced by social sharing, advocacy, and the world of communities. As a consequence, the relationship between a brand and its customers has never been more fragile and requires direct measurement and management to sustain a competitive advantage and boost sales. The tyranny of choice: You choose. La consommation ajustée. 13 janv. 2011 - La tendance touche tous les pays développés : les consommateurs sont à la recherche d'une meilleure façon de consommer.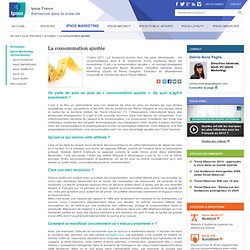 C'est « la consommation ajustée », un concept émergeant que nous expliquent Bruno Bourdon, Directeur Général, Ipsos Marketing (Quali) et Rémy Oudghiri, Directeur du département Corporate et Tendances, Ipsos Public Affairs. On parle de plus en plus de « consommation ajustée ». De quoi s'agit-il exactement ? 8664A_Consumer2020_sg8.pdf (Objet application/pdf)
---