CITIES
City Living: What 'Urban Boom' Means for Marketers | News. Shifting the Suburban Paradigm. Raising the I.Q. of City Services. The ability to manage a crisis better by predicting emergency needs and deploying resources accordingly is already a reality for Rio de Janeiro, which earlier this year set up an Intelligent Operations Center using computer programs that rely on algorithms developed by I.B.M.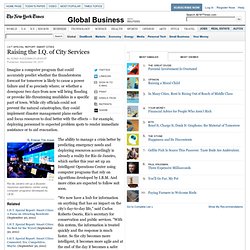 And more cities are expected to follow suit soon. "We now have a hub for information on anything that has an impact on the city's day-to-day life," said Carlos Roberto Osorio, Rio's secretary for conservation and public services. "With this system, the information is treated quickly and the response is much faster. So the city becomes more intelligent, it becomes more agile and at the end of the day it becomes a safer city for our citizens." Connected, Yes. Competitive, Maybe. Koreans' ppalli-ppalli, or "hurry-hurry," penchant — a trait more evident in Seoul than anywhere else — helps explain why South Koreans consider broadband Internet a virtual birthright and why the nation's three telecommunications firms wage a do-or-die competition to expand and improve their networks.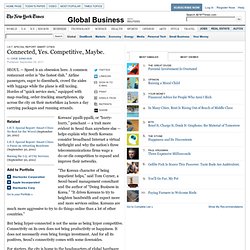 "The Korean character of being impatient helps," said Tom Coyner, a Seoul-based management consultant and the author of "Doing Business in Korea." "It drives Koreans to try to heighten bandwidth and expect more and more services online. Koreans are much more aggressive to try to do things online than a lot of other countries." But being hyper-connected is not the same as being hyper competitive. No Rest for the Wired. Woohae Cho for the International Herald Tribune Municipal authorities are installing free wireless hot spots in all Seoul's public spaces.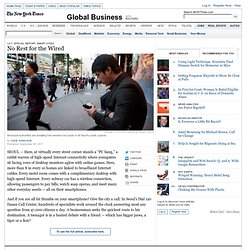 And if you are all fat thumbs on your smartphone? A Conversation With Fred Kent, Leader in Revitalizing City Spaces - Samantha Michaels - Life. For someone who makes a living revitalizing city spaces, Fred Kent has an interesting take on professional urban designers: he thinks they're overrated.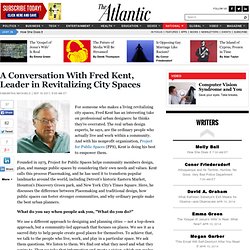 The real urban design experts, he says, are the ordinary people who actually live and work within a community. And with his nonprofit organization, Project for Public Spaces (PPS), Kent is doing his best to empower them. Founded in 1975, Project for Public Spaces helps community members design, plan, and manage public spaces by considering their own needs and values. Kent calls this process Placemaking, and he has used it to transform popular landmarks around the world, including Detroit's historic Eastern Market, Houston's Discovery Green park, and New York City's Times Square. Here, he discusses the difference between Placemaking and traditional design, how public spaces can foster stronger communities, and why ordinary people make the best urban planners.
Copenhagen wheel project. Sub City New York, What You See Emerging From a Subway Station. Sub City Paris, A Film About Emerging From Subway Stations of Paris. Architecture Meets Fashion: The World's Best Flagship Stores - OpenBuildings - Life. The two art forms have a shared understanding of space, structure, and composition, giving them a lot of common creative ground Fashion and architecture have experienced an unrivaled period of growth, with star architects and major fashion brands working closely to build architectural wonders around the world.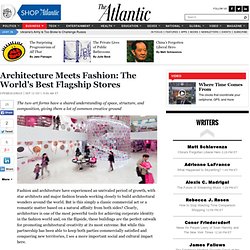 But is this simply a classic commercial act or a romantic matter based on a natural affinity from both sides? Urbanology: An Online Game to Teach Users About Sustainability - Kaid Benfield - Life. Urbanology is a companion to a large-scale, interactive installation at the on-site BMW Guggenheim Lab, currently in New York City OK, this is really fun, if not to be taken too seriously.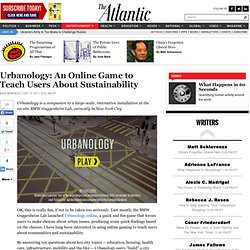 Last month, the BMW Guggenheim Lab launched Urbanology online, a quick and fun game that forces users to make choices about urban issues, producing some quick findings based on the choices.
MIT's Free Urban Planning Software Will Help Build The Cities Of The Future | Fast Company. Most of the world lives in cities.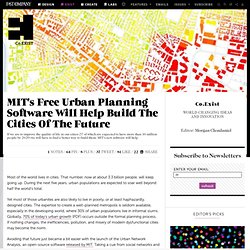 That number, now at about 3.3 billion people, will keep going up. During the next five years, urban populations are expected to soar well beyond half the world's total. Yet most of those urbanites are also likely to live in poorly, or at least haphazardly, designed cities. The expertise to create a well-planned metropolis is seldom available, especially in the developing world, where 30% of urban populations live in informal slums. Globally, 70% of today's urban growth (PDF) occurs outside the formal planning process. Pour urbaniser les villes névrosées, faire un gros câlin. URBANISME ABSURDE- Il psychanalyse les villes.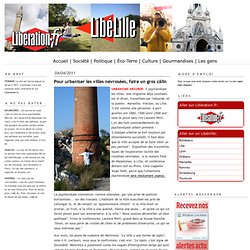 Une vingtaine déjà couchées sur le divan, travaillées par l'absurde, et la poésie. Marseille, Vierzon, ou Lille. Www.apur.org/sites/default/files/documents/APBROAPU527.pdf. Les 10 villes les plus agréables du monde. MIT's Place Pulse: A "Hot Or Not" For Cities, To Fix Broken Blocks | Co. Design. When we stumble down an an unfamiliar street, we often determine quickly -- instinctively -- if it feels unsafe.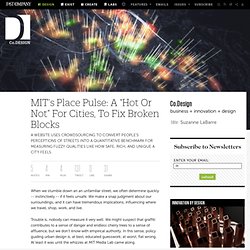 We make a snap judgment about our surroundings, and it can have tremendous implications, influencing where we travel, shop, work, and live. Trouble is, nobody can measure it very well. We might suspect that graffiti contributes to a sense of danger and endless cherry trees to a sense of affluence, but we don't know with empirical authority. Understanding Urbanity: 7 Must-Read Books About Cities. By Maria Popova What airports have to do with Medieval towns, Brooklyn's bookstores and Le Corbusier.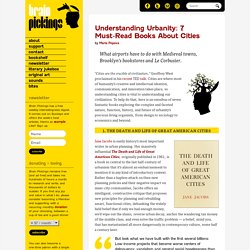 "Cities are the crucible of civilization," proclaimed Geoffrey West at last month's TED Global. Cities are where most of humanity's creative and intellectual ideation, communication, and innovation takes place, so understanding cities is vital to understanding our civilization. To help do that, here is an omnibus of seven fantastic books exploring the complex and faceted nature, function, history, and future of urbanity's precious living organism, from design to sociology to economics and beyond. How A Museum Can Regenerate An Entire City | Co. Design. Like many medium-sized cities around the world, Villahermosa, Mexico, could benefit from a shiny new museum to draw tourists and provide public space for its residents. But architect Enrique Norten and his firm TEN Arquitectos have much bigger plans than that. They've developed a cultural center that's part of an ambitious rethinking of Villahermosa's most major street.
The Museo Elevado de Villahermosa, or Musevi for short, is a new cultural center in Villahermosa that's part of Norten's fresh master plan. The structure sits on (and over) the busy Paseo Tabasco, which will undergo a larger transformation to make the street a green, mixed-use, multi-modal thoroughfare for bikes and pedestrians. The site is unique in that it links two parks, each with their own lakes, which had previously been divided by the busy street. Say Something Nice.
(View it larger on YouTube) | Subscribe to our YouTube channel Produced by Charlie Todd and Matt Adams / Music by Tyler Walker For our latest mission we constructed a custom wooden lectern with a megaphone holster and an attached sign that read, "Say Something Nice." The lectern was placed in public spaces around New York and then left alone. We wanted to see what would happen if New Yorkers were given the opportunity to amplify their voices to "say something nice."
CITIES FUTURE
DESIGN. CITIES & BRAND. CITIES APPROCAH. APPLI. NYC. BNW GUGGENHEIM LAB. Transit/Tech-For-Transit-Summary.pdf. The Atlantic Cities. Think Of Buildings As Sandwiches. What Makes Them Tasty? | Co.Design.
In the past, urban planners spent a lot of time coloring maps. Why? To set the rules for land use: Where will the housing go? The offices? The school? Two-dimensional thinking assigned one color to each parcel to guide which uses could touch each other and which uses needed a buffer.
---