CITIES
City Living: What 'Urban Boom' Means for Marketers | News
Shifting the Suburban Paradigm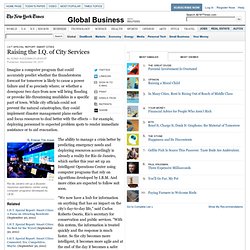 Raising the I.Q. of City Services
The ability to manage a crisis better by predicting emergency needs and deploying resources accordingly is already a reality for Rio de Janeiro, which earlier this year set up an Intelligent Operations Center using computer programs that rely on algorithms developed by I.B.M.
Connected, Yes. Competitive, Maybe.
Koreans' ppalli-ppalli, or "hurry-hurry," penchant — a trait more evident in Seoul than anywhere else — helps explain why South Koreans consider broadband Internet a virtual birthright and why the nation's three telecommunications firms wage a do-or-die competition to expand and improve their networks.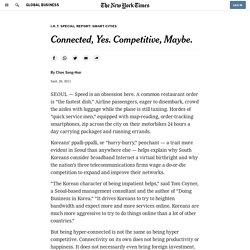 No Rest for the Wired
Woohae Cho for the International Herald Tribune Municipal authorities are installing free wireless hot spots in all Seoul's public spaces. And if you are all fat thumbs on your smartphone?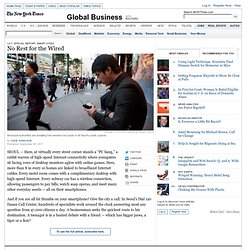 For someone who makes a living revitalizing city spaces, Fred Kent has an interesting take on professional urban designers: he thinks they're overrated. The real urban design experts, he says, are the ordinary people who actually live and work within a community.
A Conversation With Fred Kent, Leader in Revitalizing City Spaces - Samantha Michaels - Life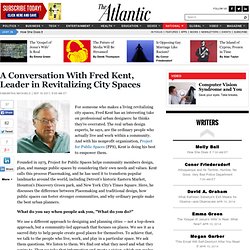 Sub City New York, What You See Emerging From a Subway Station
Sub City Paris, A Film About Emerging From Subway Stations of Paris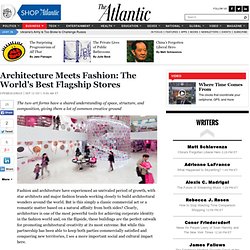 Architecture Meets Fashion: The World's Best Flagship Stores - OpenBuildings - Life
The two art forms have a shared understanding of space, structure, and composition, giving them a lot of common creative ground Fashion and architecture have experienced an unrivaled period of growth, with star architects and major fashion brands working closely to build architectural wonders around the world. But is this simply a classic commercial act or a romantic matter based on a natural affinity from both sides?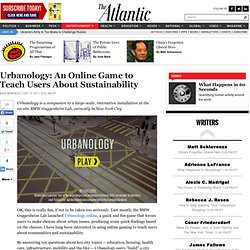 Urbanology is a companion to a large-scale, interactive installation at the on-site BMW Guggenheim Lab, currently in New York City OK, this is really fun, if not to be taken too seriously. Last month, the BMW Guggenheim Lab launched Urbanology online, a quick and fun game that forces users to make choices about urban issues, producing some quick findings based on the choices.
Urbanology: An Online Game to Teach Users About Sustainability - Kaid Benfield - Life
MIT's Free Urban Planning Software Will Help Build The Cities Of The Future | Fast Company
Most of the world lives in cities. That number, now at about 3.3 billion people, will keep going up.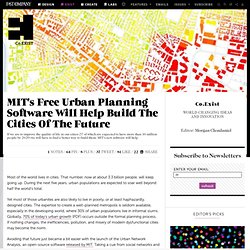 Pour urbaniser les villes névrosées, faire un gros câlin
URBANISME ABSURDE- Il psychanalyse les villes. Une vingtaine déjà couchées sur le divan, travaillées par l'absurde, et la poésie. Marseille, Vierzon, ou Lille.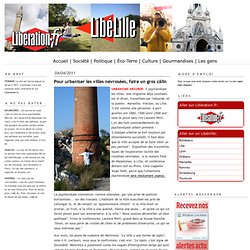 www.apur.org/sites/default/files/documents/APBROAPU527.pdf
Les 10 villes les plus agréables du monde
When we stumble down an an unfamiliar street, we often determine quickly -- instinctively -- if it feels unsafe.
MIT's Place Pulse: A "Hot Or Not" For Cities, To Fix Broken Blocks | Co. Design
Understanding Urbanity: 7 Must-Read Books About Cities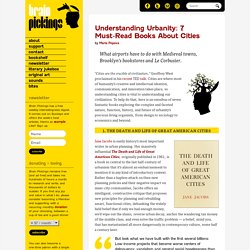 by Maria Popova
How A Museum Can Regenerate An Entire City | Co. Design
Like many medium-sized cities around the world, Villahermosa, Mexico, could benefit from a shiny new museum to draw tourists and provide public space for its residents. But architect Enrique Norten and his firm TEN Arquitectos have much bigger plans than that.
Say Something Nice
(View it larger on YouTube) | Subscribe to our YouTube channel Produced by Charlie Todd and Matt Adams / Music by Tyler Walker
Transit/Tech-For-Transit-Summary.pdf
Think Of Buildings As Sandwiches. What Makes Them Tasty? | Co.Design
In the past, urban planners spent a lot of time coloring maps. Why?