AGENCES
Young, wicked smart and rebooting your world. In the domains of media, marketing and technology, to be merely young and successful isn't so remarkable.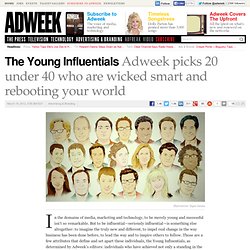 But to be influential—seriously influential—is something else altogether: to imagine the truly new and different, to impel real change in the way business has been done before, to lead the way and to inspire others to follow. Those are a few attributes that define and set apart these individuals, the Young Influentials, as determined by Adweek's editors: individuals who have achieved not only a standing in the industry—in most cases, a standing far beyond their years—but who also constitute the very vanguard of innovation in media, technology, brand leadership and creative work.
If you haven't heard of them already, you will. Jeff Benjamin North America Chief Creative Officer, JWT A true creative revolutionary, the 37-year-old Connecticut native (and huge karaoke fan) first got a taste for persuasion while on his college debate team.
AWARDS
CREATION. MEDIAS. METIERS. The Future Of Digital Media Buying . . . Is Now! Embrace Programmatic Buying To Increase Efficiency And Reduce Waste. As anyone who reads my research knows, I am the resident display ad technology geek on the Interactive Marketing team.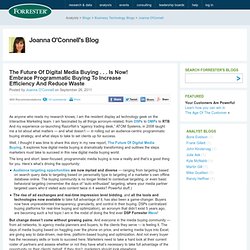 I am fascinated by all things acronym-related, from DSPs to DMPs to RTB. And my experience co-launching Razorfish's "agency trading desk," ATOM Systems, in 2008 taught me a lot about what matters — and what doesn't — in rolling out an audience-centric programmatic buying strategy, and what steps to take to set clients up for success. Well, I thought it was time to share this story in my new report, The Future Of Digital Media Buying. It explores how digital media buying is dramatically transforming and outlines the steps marketers must take to succeed in this new digital media buying world. The long and short: laser-focused, programmatic media buying is now a reality and that's a good thing for you. Hot Web Design Trends: Parallax Scrolling Effects in 90 Examples. 6.5 Seconds That Matter.
---