2011
The word "Hater" — as it's often used today — is derived from the term "Player Hater," a phrase popularized by late rapper Notorious B.I.G., shown here clutching his Billboard Music Awards in 1995. Mark Lennihan / AP Haters are here. And there. And everywhere.
'Haters' Are Going To Hate This Story
By TOM DOWNEY Photograph by Tung Walsh THE REAL DEAL | Americana collector Hitoshi Tsujimoto, founder of high-end workwear brand the Real McCoy's, in his Kobe headquarters among a few of his approximately 100 Warhols.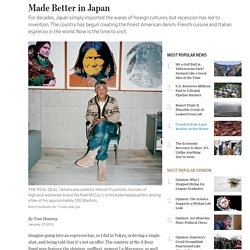 Made Better in Japan
As Scorn for Vote Grows, Protests Surge Around Globe
Adnan Abidi/Reuters INDIA Parliament capitulated to Anna Hazare's demands on an anticorruption measure. Their complaints range from corruption to lack of affordable housing and joblessness, common grievances the world over. But from South Asia to the heartland of Europe and now even to Wall Street , these protesters share something else: wariness, even contempt, toward traditional politicians and the democratic political process they preside over.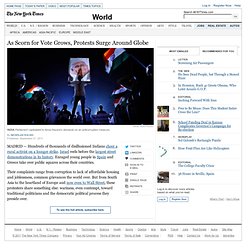 THE SOURCE " 'We're Not Living Together': Stayover Relationships Among College-Educated Emerging Adults," by Tyler B. Jamison and Lawrence Ganong, Journal of Social and Personal Relationships. WHEN social critics are not busy lamenting the fact that young people no longer marry in great numbers, they worry about where young people are living, especially if it's on other people's sofas. Now, a new study unites these two fears about the nation's youth. According to "We're Not Living Together," by Tyler B. Jamison, a researcher in the Department of Human Development and Family Studies at the University of Missouri, along with hookups, friends with benefits and shacking up, we can add the "stayover" to the pantheon of youthful romantic endeavors.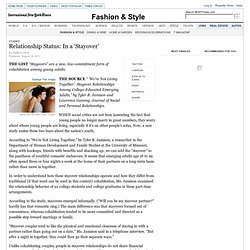 The Stayover as a Relationship
Business Week Popularity 2011
Positive Futurist Blog >> Future of Relationships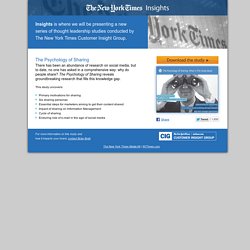 There has been an abundance of research on social media, but to date, no one has asked in a comprehensive way: why do people share? The Psychology of Sharing reveals groundbreaking research that fills this knowledge gap. This study uncovers: Primary motivations for sharing Six sharing personas Essential steps for marketers aiming to get their content shared Impact of sharing on Information Management Cycle of sharing Enduring role of e-mail in the age of social media
Springwise: Shop On The Beach With H&M And Help Save Water