Francoise_fassin
francoise fassin
Marketing, Media, Social Media, Planning, Trends. More on twitter.com/bookgirl1
GIF. Killer shoot. STORIES. BEHAVIOUR. The Power of Introverts: A Manifesto for Quiet Brilliance. Do you enjoy having time to yourself, but always feel a little guilty about it?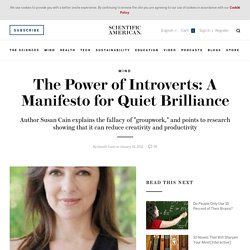 Then Susan Cain's "Quiet : The Power of Introverts" is for you. It's part book, part manifesto. We live in a nation that values its extroverts – the outgoing, the lovers of crowds – but not the quiet types who change the world. She recently answered questions from Mind Matters editor Gareth Cook.
GOOGLE. WPP. Indicateurs & richesses. THOUGHT. PUNK PLANNING. DATA. THINGS LOVED.
---
beautifulmonde Apr 8 2012

Vous avez un pearltree étonnant...

cjbrough Jan 26 2012

I absolutely love your pearltree!
---