Random Coolness
How often do you find yourself on the internet looking at the same boring pages? You know there is something out there but you don't know where to look Trust me, how bad could it be? Click above for a new random website Links will open in a new window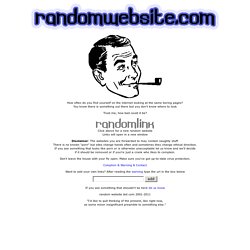 www.dandy.com
Welcoome to FUMBOO!
for kids!
The Beano Comic - Weekly laughs, jokes, pranks, and puzzles for kids. Starring Dennis and Gnasher!
FamousBirthdays.com
The No.1 Official Free Television & Radio Audience Ticket Destination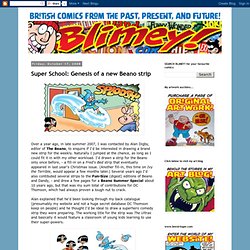 Over a year ago, in late summer 2007, I was contacted by Alan Digby, editor of The Beano, to enquire if I'd be interested in drawing a brand new strip for the weekly. Naturally I jumped at the chance, as long as I could fit it in with my other workload. I'd drawn a strip for the Beano only once before, - a fill-in on a Fred's Bed strip that eventually appeared in last year's Christmas issue. (Another fill-in, this time on Ivy the Terrible, would appear a few months later.) Several years ago I'd also contibuted several strips to the Fun-Size (digest) editions of Beano and Dandy, - and drew a few pages for a Beano Summer Special about 10 years ago, but that was my sum total of contributions for DC Thomson, which had always proven a tough nut to crack.
Super School: Genesis of a new Beano strip