Typo
The Great Typekit Table – Sleepover. The New Web Typography - Vimperator. As the @font-face rule emerged, it brought with it sweeping changes to the visual landscape of the web.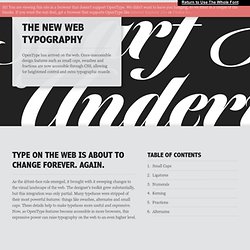 The designer's toolkit grew substantially, but this integration was only partial. Many typefaces were stripped of their most powerful features: things like swashes, alternates and small caps. These details help to make typefaces more useful and expressive. Now, as OpenType features become accessible in more browsers, this expressive power can raise typography on the web to an even higher level. Newsletter | December 21, 2011. Another year has whizzed by!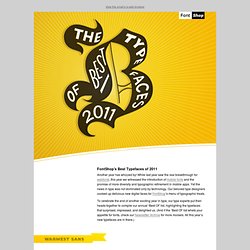 While last year saw the real breakthrough for webfonts, this year we witnessed the introduction of mobile fonts and the promise of more diversity and typographic refinement in mobile apps. Yet the news in type was not dominated only by technology. Our beloved type designers cooked up delicious new digital faces for FontShop's menu of typographic treats. To celebrate the end of another exciting year in type, our type experts put their heads together to compile our annual "Best Of" list, highlighting the typefaces that surprised, impressed, and delighted us. (And if the "Best Of" list whets your appetite for fonts, check our Newsletter Archive for more morsels. 10 Essential Books on Typography.
By Maria Popova What Arab culture has to do with industrial ideals, midcentury design and Victorian hand-lettering.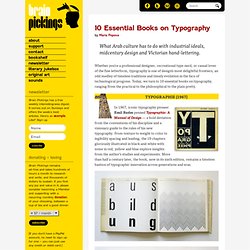 Whether you're a professional designer, recreational type-nerd, or casual lover of the fine letterform, typography is one of design's most delightful frontiers, an odd medley of timeless traditions and timely evolution in the face of technological progress. Today, we turn to 10 essential books on typography, ranging from the practical to the philosophical to the plain pretty. A Visual History of the Alphabet - Maria Popova - Life. A book uses lavish illustrations and typography to tell how cultures transformed sounds into letters, why letters look the way they do, and why they'll never change I'm endlessly fascinated by the intersection of sight and sound and have a well-documented alphabet book fetish.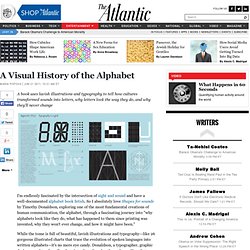 So I absolutely love Shapes for sounds by Timothy Donaldson, exploring one of the most fundamental creations of human communication, the alphabet, through a fascinating journey into "why alphabets look like they do, what has happened to them since printing was invented, why they won't ever change, and how it might have been. " While the tome is full of beautiful, lavish illustrations and typography—like 26 gorgeous illustrated charts that trace the evolution of spoken languages into written alphabets—it's no mere eye candy. How to Actually Make Text Look Interesting: Minimalist Web Design — Space.
Lettercase. Font sizing with rem. Determining a unit of measurement to size our text can be a topic of heated debate, even in this day and age.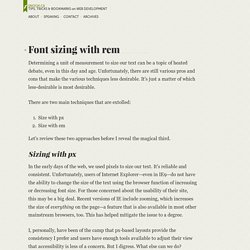 Unfortunately, there are still various pros and cons that make the various techniques less desirable. It's just a matter of which less-desirable is most desirable. There are two main techniques that are extolled: Size with pxSize with em Let's review these two approaches before I reveal the magical third. Google Web fonts E - N | Font comparer. 8 Essential Web Typography Resources. The Web Development Series is supported by Rackspace, the better way to do hosting.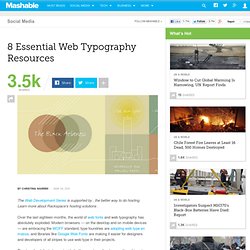 Learn more about Rackspace's hosting solutions here. Over the last eighteen months, the world of web fonts and web typography has absolutely exploded.
---