Tutos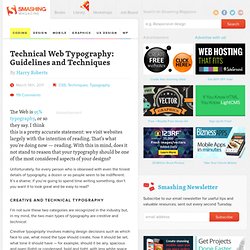 Advertisement The Web is 95% typography, or so they say. I think this is a pretty accurate statement: we visit websites largely with the intention of reading.
JavaScript & AJAX
An Intensive Exploration Of jQuery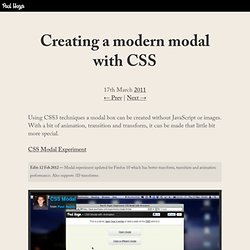 Using CSS3 techniques a modal box can be created without JavaScript or images. With a bit of animation, transition and transform, it can be made that little bit more special. CSS Modal Experiment Modal experiment updated for Firefox 10 which has better transform, transition and animation performance. Also supports 3D transforms. In this experiment, clicking an 'open' link pops up a dialogue with a smooth hardware accelerated bounce (where supported).
CSS Modal
Ajax - MDC Doc Center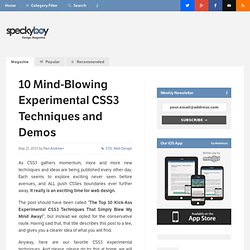 10 Mind-Blowing Experimental CSS3 Techniques and Demos-Speckyboy Design Magazine
As CSS3 gathers momentum, more and more new techniques and ideas are being published every other day. Each seems to explore exciting never seen before avenues, and ALL push CSSes boundaries ever further away. It really is an exciting time for web design.