Node.js
the node.js aesthetic :: The Universe of Discord - Vimperator
I would like to document an emerging set of programming conventions, philosophies, and values that I see evolving in the node.js community.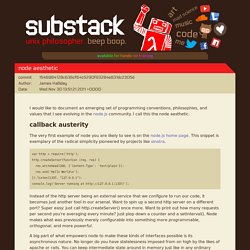 Node.js is growing rapidly; one of the biggest reasons for this is thanks to the developers who create amazing tools that significantly improve productivity with Node.
How to Scrape Web Pages with Node.js and jQuery
multithreading - What is the Haskell response to Node.js
npm registry
Invalid quantity. Please enter a quantity of 1 or more. The quantity you chose exceeds the quantity available. Please enter your name. Please enter an email address.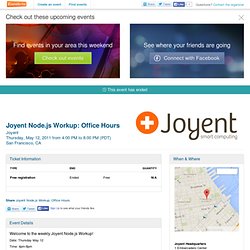 Joyent Node.js Workup: Office Hours - Eventbrite
« Home / All Guides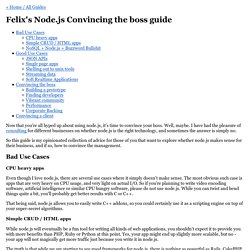 Felix's Node.js Convincing the boss guide
Node.js contributor Tim Caswell pushed an initial release of WebApp Topcube, a framework for building desktop GUI apps with Node.js, to GitHub. The stated goal is to "Give node developers a way to have a desktop GUI to their node servers using HTML5 + CSS3 as the GUI platform." It's still very early in the project's life - Caswell notes that he's not even sure he will continue developing it. WebApp is currently built on WebKitGTK+. Caswell also has a GitHub repository for a project called node-gir, which he describes as: Node-gir is node bindings to the girepository library making it possible to make automatic and dynamic calls to any library that has GI annotations installed.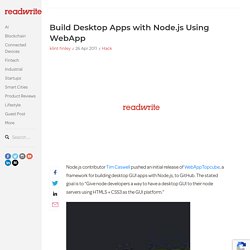 Build Desktop Apps with Node.js Using WebApp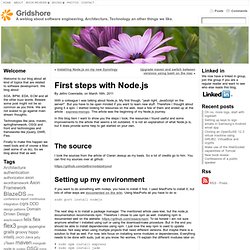 First steps with Node.js
With a colleague I was talking about Node.js.
MapRejuice | Distributed Computing via Javascript
Learning Node.js « JTeam Blog / JTeam: Enterprise Java, Open Source, software solutions, Amsterdam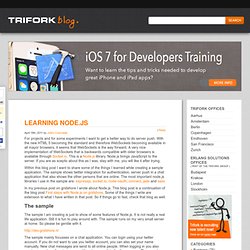 For projects and for some experiments I want to get a better way to do server push.
Node.io is a relatively new screen scraping framework that allows you to easily scrape data from websites using Javascript, a language that I think is perfectly suited to the task.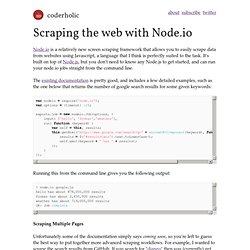 Scraping the web with Node.io | Coderholic
Express - node web framework
npm - Node Package Manager
OK, we won't bore you by telling you what Node.js is again or why it's so dang hot. You want to learn Node.js? There's no completely finished Node.js book out there that we're aware of. But there's one complete book in rough draft form, two partial guides and several other great resources for learning Node.js.
6 Free E-Books and Tutorials for Learning and Mastering Node.js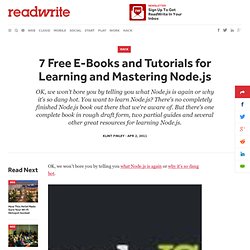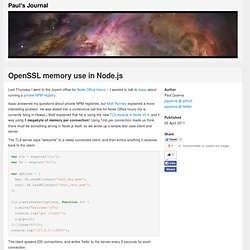 Last Thursday I went to the Joyent office for Node Office Hours -- I wanted to talk to Isaac about running a private NPM registry. Isaac answered my questions about private NPM registries, but Matt Ranney explained a more interesting problem.
OpenSSL memory use in Node.js | Paul's Journal