JQuery
jQuery version. 175 Awesome jQuery Slider and Effects Roundup - tripwire magazine - Vimperator. Slider are very useful and increasingly popular web page elements used for highlighting important content.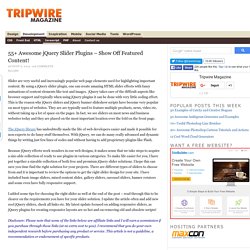 By using a jQuery slider plugin, one can create amazing HTML slider effects with fancy animations of content elements like text and images. jQuery takes care of the difficult aspects like browser support and typically when using jQuery plugins it can be done with very little coding effort. This is the reason why jQuery sliders and jQuery banner slideshow scripts have become very popular on most types of websites. They are are typically used to feature multiple products, news, video etc. without taking up a lot of space on the pages.
In fact, we see sliders on most news and business websites today and they are placed on the most important location over the fold on the front page. Typography Effects with CSS3 and jQuery - Vimperator. One morning, when Gregor Samsa woke from troubled dreams, he found himself transformed in his bed into a horrible vermin.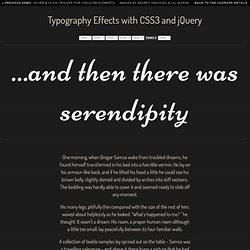 He lay on his armour-like back, and if he lifted his head a little he could see his brown belly, slightly domed and divided by arches into stiff sections. The bedding was hardly able to cover it and seemed ready to slide off any moment. His many legs, pitifully thin compared with the size of the rest of him, waved about helplessly as he looked. "What's happened to me? jQuery effects, 150+ best for web developers and designers - Vimperator. Since the arrival of the jQuery library, the life of JavaScript programmers have gotten a lot easier because now it's simpler to develop web 2.0 applications.
With jQuery, the programmers can keep their code organized and concise, which is the major slogan of the library, "write less, do more". You can utilize jQuery to handle events, generate animations, and even add an Ajax support into your web applications in a very easy way. Certainly you can use JavaScript to execute all the jQuery functions, but if you use it, your programming times will reduce and your effectiveness will increase, and that's the real magic of jQuery. Best jQuery Plugins of 2011 | Resources - Vimperator. jQuery was first released in 2006.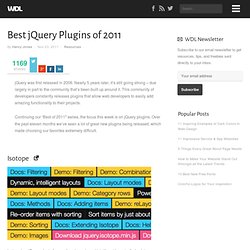 Nearly 5 years later, it's still going strong – due largely in part to the community that's been built up around it. This community of developers constantly releases plugins that allow web developers to easily add amazing functionality to their projects. Continuing our "Best of 2011″ series, the focus this week is on jQuery plugins. Over the past eleven months we've seen a lot of great new plugins being released, which made choosing our favorites extremely difficult. Isotope. Booklet - jQuery Plugin - Vimperator. What is it?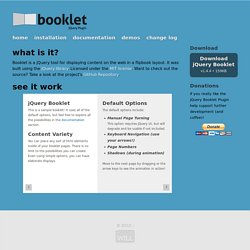 Booklet is a jQuery tool for displaying content on the web in a flipbook layout. It was built using the jQuery library. Licensed under the MIT license. Want to check out the source? Take a look at the project's GitHub Repository. 7 Things I Wish I Had Known About jQuery - Vimperator. This article is mostly aimed at people who are just starting to learn jQuery.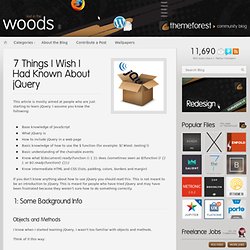 I assume you know the following: Base knowledge of JavaScriptWhat jQuery isHow to include jQuery in a web pageBasic knowledge of how to use the $ function (for example: $('#test .testing'))Basic understanding of the chainable eventsKnow what $(document).ready(function () { }); does (sometimes seen as $(function () {} ); or $().ready(function() {});)Know intermediate HTML and CSS (lists, padding, colors, borders and margin) If you don't know anything about how to use jQuery you should read this. This is not meant to be an introduction to jQuery. Adapter jQuery à vos besoins - Vimperator. Cet article se base sur l'acquis.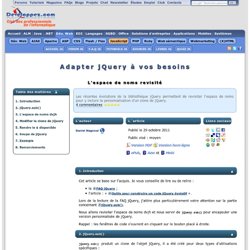 Je vous conseille de lire ou de relire : Lors de la lecture de la FAQ jQuery, j'attire plus particulièrement votre attention sur la partie concernant jQuery.sub() . Nous allons revisiter l'espace de noms dvjh et nous servir de jQuery.sub() pour encapsuler une version personnalisée de jQuery. jQuery Liquid Carousel plugin - Vimperator. To see this plugin in action, just resize this window...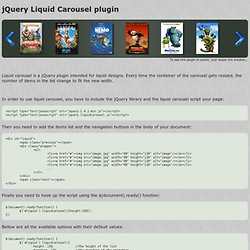 Liquid carousel is a jQuery plugin intended for liquid designs. Every time the container of the carousel gets resized, the number of items in the list change to fit the new width. In order to use liquid carousel, you have to include the jQuery library and the liquid carousel script your page: Then you need to add the items list and the navigation buttons in the body of your document: jQuery Masonry. Comment faire un « infinite scroll » en jQuery | Arnaud Bosquet. Publié par Arnaud le 3 fév 2011 dans Développement Il parait que c'est la tendance pour l'année 2011 : l'infinite Scroll.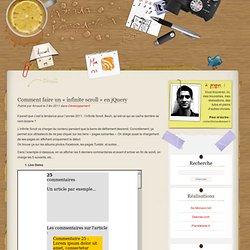 Beuh, qu'est-ce qui se cache derrière ce nom bizarre ? L'infinite Scroll va charger du contenu pendant que la barre de défilement descend. Best jQuery blogs to always keep within your RSS Design and Development tuts – TutorialShock. For those who are not very much into web development, jQuery is a popular cross-browser JavaScript library designed specifically to simplify the client-side scripting of HTML. jQuery was released in January 2006 by John Resig and is currently being utilized by over 31% of the 10 K most visited websites, thus jQuery has become the most popular JavaScript library nowadays.
One of the best things about jQuery is its OpenSource condition and the fact that is dual-licensed under the MIT License and the GNU General Public License V2, thanks to these two aspects, every developer can generate their own jQuery plugins and send them directly to the JavaScript library. Now that we have exposed blatantly our love towards jQuery, we like to offer you a grand compilation of blogs and websites where you can find a lot of information about jQuery, including new plugins, good practices and reviews, let's see what you think about these places. Reducing map: jQuery vs jQuery vs JavaScript - O! Mr Speaker! The map/reduce (and their friends filter, each, flatten etc) paradigm provides a general way to manipulate lists and streams.
This is particularly well suited to web work - where we spend most of our days playing with lists of DOM elements. Recent versions of JavaScript give us the tools to do this work natively but before that we had to roll our own, or use a library. jQuery has had some similar features since way-back-when, so today we're going to do a bit of "compare & contrast" on the map function: jQuery vs jQuery vs JavaScript!
Map iterates over a collections and applies a function to each element - returning a new, usually modified, list. Our tests will examine jQuery's "inline" map with it's global $.map map, and JavaScript's native map function. 25 Incredible jQuery Plugins for Design Enhancements. There are a lot of readymade jQuery plugins from helpful developers and designers who put excellent effects and functionality in their code to help your website. Here are 25 jQuery plugins to perk up your site. You can just download the scripts and add them to the jQuery framework, and it will enhance your web design. 1. Peity • progressive <canvas> pie charts.
Peity (sounds like deity) is a simple jQuery plugin that converts an element's content into a simple <svg> mini pie 2/5 line 5,3,9,6,5,9,7,3,5,2 or bar chart 5,3,9,6,5,9,7,3,5,2 and is compatible with any browser that supports <svg>: Chrome, Firefox, IE9+, Opera, Safari. Download version 2.0.2 Uncompressed 7.1Kb jquery.peity.js Minified 3.3Kb (+gzipped 1.5Kb) jquery.peity.min.js. Marathons, Pirates, and Moving Beyond jQuery. Do you know Chris Selmer? He's one of the Senior Partners here at Intridea. He's also a person that likes to run, even when nothing is chasing him. 9 jQuery Scripts to Enhance Your Website. Time for a roundup for all the jQuery plugins that have been on the wild for a few weeks. There are getting more and more jQuery plugins coming out just to meet your special needs. In this post, I particularly like Sausage contextual pagination, I think it's a brilliant ideas!
Here you go, pretty sure some of them will be really useful. Apprise - The attractive alert alternative for jQuery. Jquery.easie.js. RequireJS. jQuery ruleAnimation plugin. 14 Useful jQuery Plugins For Web Designers And Developers. Tools For jQuery Application Architecture – The Printable Chart. Excellent jQuery CSS Animated Navigation Menu Tutorials. An Intensive Exploration Of jQuery. jQuery Anti-Patterns for Performance. Smashing Labs - gMap, Google Maps jQuery plugin. jQuery Quicktag. Framework javascript - documentation en francais et actualités. jQuery Fundamentals. jQuery: The Write Less, Do More, JavaScript Library.
---