JQuery
jQuery version
This article is one of the largest and most up to date collections of jQuery slider plugins . There are different types of sliders to choose from and it is important to review the options to get the right slider design for your site.
Typography Effects with CSS3 and jQuery - Vimperator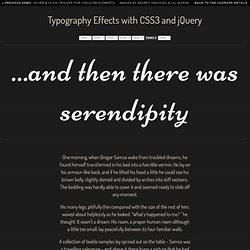 One morning, when Gregor Samsa woke from troubled dreams, he found himself transformed in his bed into a horrible vermin.
Since the arrival of the jQuery library, the life of JavaScript programmers have gotten a lot easier because now it's simpler to develop web 2.0 applications.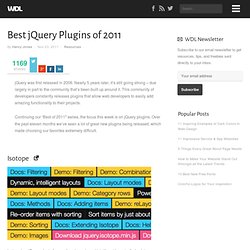 jQuery was first released in 2006. Nearly 5 years later, it's still going strong – due largely in part to the community that's been built up around it.
what is it? Booklet is a jQuery tool for displaying content on the web in a flipbook layout.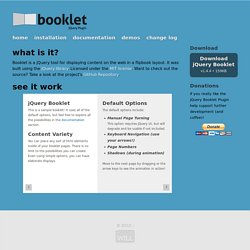 JQuery vs Prototype JS
Fri, 15 Apr 2011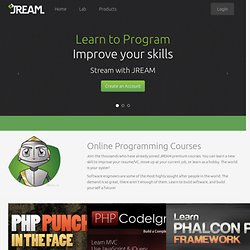 7 Things I Wish I Had Known About jQuery - Vimperator
This article is mostly aimed at people who are just starting to learn jQuery.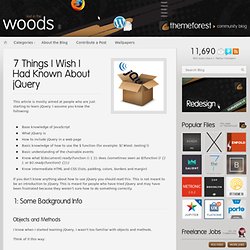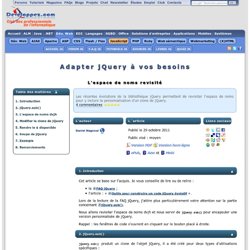 Cet article se base sur l'acquis.
Adapter jQuery à vos besoins - Vimperator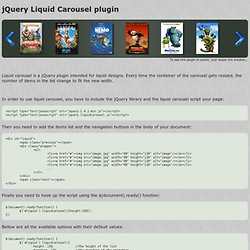 To see this plugin in action, just resize this window...
jQuery Liquid Carousel plugin - Vimperator
swipe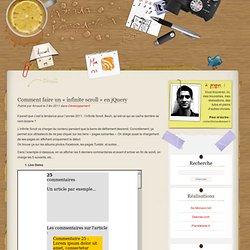 Publié par Arnaud le 3 fév 2011 dans Développement
Comment faire un « infinite scroll » en jQuery | Arnaud Bosquet
jquery/web-learn-jquery-com - GitHub
For those who are not very much into web development, jQuery is a popular cross-browser JavaScript library designed specifically to simplify the client-side scripting of HTML. jQuery was released in January 2006 by John Resig and is currently being utilized by over 31% of the 10 K most visited websites, thus jQuery has become the most popular JavaScript library nowadays. One of the best things about jQuery is its OpenSource condition and the fact that is dual-licensed under the MIT License and the GNU General Public License V2, thanks to these two aspects, every developer can generate their own jQuery plugins and send them directly to the JavaScript library. Now that we have exposed blatantly our love towards jQuery, we like to offer you a grand compilation of blogs and websites where you can find a lot of information about jQuery, including new plugins, good practices and reviews, let's see what you think about these places.
Best jQuery blogs to always keep within your RSS Design and Development tuts – TutorialShock
The map/reduce (and their friends filter, each, flatten etc) paradigm provides a general way to manipulate lists and streams.
Reducing map: jQuery vs jQuery vs JavaScript - O! Mr Speaker!
25 Incredible jQuery Plugins for Design Enhancements
There are a lot of readymade jQuery plugins from helpful developers and designers who put excellent effects and functionality in their code to help your website.
Peity (sounds like deity) is a simple jQuery plugin that converts an element's content into a simple <canvas> mini pie 2/5 line 5,3,9,6,5,9,7,3,5,2 or bar chart 5,3,9,6,5,9,7,3,5,2 and is compatible with any browser that supports <canvas> : Chrome, Firefox, IE9+, Opera, Safari.
Marathons, Pirates, and Moving Beyond jQuery
9 jQuery Scripts to Enhance Your Website
jquery.easie.js
RequireJS
jQuery ruleAnimation plugin
14 Useful jQuery Plugins For Web Designers And Developers
Tools For jQuery Application Architecture – The Printable Chart
Excellent jQuery CSS Animated Navigation Menu Tutorials
An Intensive Exploration Of jQuery
jQuery Anti-Patterns for Performance
Smashing Labs - gMap, Google Maps jQuery plugin
jQuery Quicktag