Tuto
Commencer le développement web avec Java EE - Tutoriel Java EE
- Tutoriel Java EE - Commencer le développement web avec Java EE Ce tutoriel a pour but de vous guider dans les premiers pas du développement web avec Java EE. Ce tutoriel exploite de façon très simplifiée quelques-uns des composants de Java EE pour le développement d'applications web.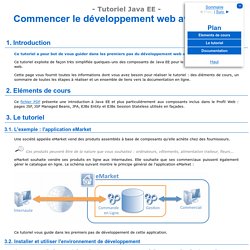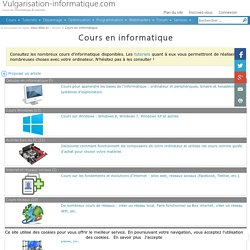 Cours informatique gratuits en ligne
Ajouter un article Les bases du PC Destinée aux plus débutants d'entre-nous, cette catégorie va vous permettre d'apprendre les bases de l'informatique en vous permettant d'appréhender votre ordinateur facilement. 7 articles Note moyenne : 4/5
Introduction You love XML and the flexibility and interoperability that it offers, but you can do some things to make your interaction with XML and the tools that you use to work with it significantly easier. Picking up some basic good habits when you work with XML will ensure that you get the most efficient use out of your XML documentations and applications. Back to top Adopt 10 good habits Here are the top 10 good XML habits to adopt:
Learn 10 good XML usage habits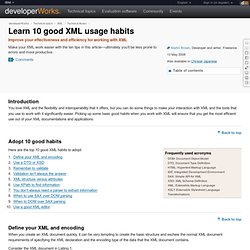 Les meilleurs cours, tutoriels et docs sur le XML
Les meilleurs cours sur les réseaux
Permission est accordée de copier, distribuer et/ou modifier ce document selon les termes de la Licence de Documentation Libre GNU (GNU Free Documentation License), version 1.1 ou toute version ultérieure publiée par la Free Software Foundation sans section invariante, sans texte de première de couverture, ni texte de quatrième de couverture. Une copie de la licence est fournie dans la section intitulée "GNU Free Documentation License" .