MySQL
Oracle adding close source extensions to MySQL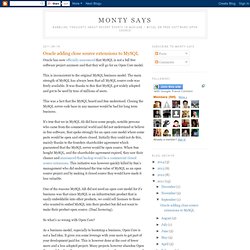 Oracle has now officially announced that MySQL is not a full free software project anymore and that they will go for an Open Core model. This is inconsistent to the original MySQL business model. The main strength of MySQL has always been that all MySQL source code was freely available. It was thanks to this that MySQL got widely adopted and got to be used by tens of millions of users. This was a fact that the MySQL board and Sun understood. Closing the MySQL server code base in any manner would be bad for long term business.
MariaDB vs MySQL » By jbowen » Featured, Open Source
Chapitre 15. Le moteur de tables InnoDB - Manuel MySQL
Chapitre 15. Le moteur de tables InnoDB 15.1. Présentation des tables InnoDB InnoDB fournit à MySQL un gestionnaire de table transactionnelle (compatible ACID ), avec validation (commits), annulations (rollback) et capacités de restauration après crash. InnoDB utilise un verrouillage de lignes, et fournit des lectures cohérentes comme Oracle, sans verrous.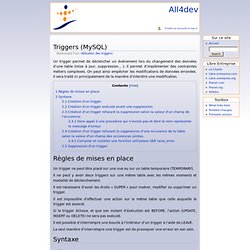 Triggers (MySQL) - All4Dev
From All4Dev Un trigger permet de déclencher un événement lors du changement des données d'une table (mise à jour, suppression... ). Il permet d'implémenter des contraintes métiers complexes.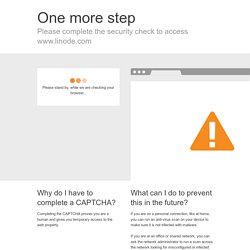 The Redis Database System - Linode Library
Redis is an open source data store solution designed for deployments in high performance environments and for applications where performance and flexibility are more critical than data persistence and absolute data integrity. Designed as a key-value store or a "data structures storage system", Redis may be considered a participant in the "NoSQL" movement like MongoDB and CouchDB . These documents provide both instructions for deploying the Redis server and overviews of best practices for maintaining Redis instances.