Webcomics
Zerocalcare.it. Dead Philosophers in Heaven - Girl Genius Online Comics! Girl Genius is written by Professors Phil & Kaja Foglio of TPU, with drawings by Prof.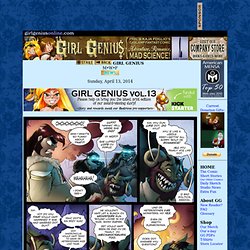 P. Foglio. Volume One was inked by Brian Snoddy. Volumes Two and Three were colored by Mark McNabb. -Zebra Girl- TERRA | a sci-fi webcomic | updates wednesday. Wayward Sons: Legends - Sci-Fi Full Page Webcomic - Updates Daily. New Adventures WithOccasional Updates Written, Lettered & Createdby Benny R.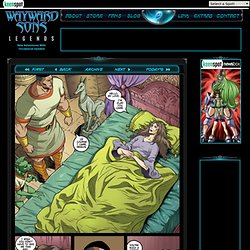 PowellPencil Artwork by Weilin YangFinishes by Youjun YangColors by Kun Song <a href=" Shadows of Enchantment. BeanLeaf Press - the art and stories of travis hanson. Planes of Eldlor | A High Fantasy Webcomic | Home. Accursed Dragon! Fafnir The Dragon - The adventures of Fafnir. The Daemonslayers. Dark Welkin - Thursday, 2nd February, 2012. It's the End of the World as We Know It. Goblins. Ctrl+Alt+Del. Guilded Age - Fantasy Comic every Monday, Wednesday and Friday. Legend Of Bill - A fantasy comic for fans of everything from D&D to Warcraft!
ZED RECKONING. I am not bisexuelle. Tales of the Traveling Gnome: Webcomic. ToPComics. Out There - Friday, June 1, 2012. Wayfarer's Moon - Updates Weekly. The Noob Comic. Exiern - The B-Movie Comic. NNFB. True Magic, the Comic! Big Head Press - Thoughtful Stories, Graphic Novels Online And In Print - Odysseus The Rebel, by Steven Grant and Scott Bieser. Dungeons & Denizens - A Lighthearted Dungeon Romp. Sorcery 101. Tales from the Middle Kingdom - Based on the classic novel "Romance of the Three Kingdoms".
Looking For Group. Least I Could Do: the Comic » by Ryan Sohmer and Lar deSouza.
---