Marketing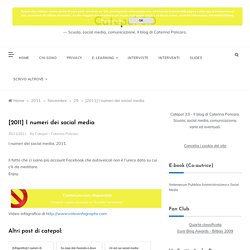 [2011] I numeri dei social media
Catepol 3.0 Chi sono Policy del blog e-learning Interviste Interventi
Sono sicuro che tra pochissimo tempo dovrò cambiare "job title" nel sito aziendale a Londra. Così come qui in Italia. Mi sto accorgendo quanto in fretta sta variando il nostro mondo. Perché dico questo? Perché il SEO non basta più per posizionare un sito e portare il cliente a convertire traffico con i motori di ricerca.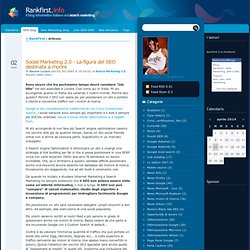 Social Marketing 2.0 - La figura del SEO destinata a morire
Cannabis dispensaries want to be able to advertise their products using the same online channels as every other business and website. However, they're finding few opportunities to do so and Google, Twitter and Facebook aren't budging. Users on the go looking for a business's phone number in the search results expect to be able to access that number and call with a couple clicks.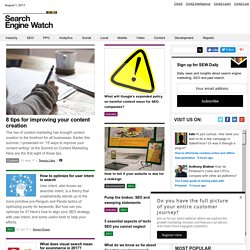 i social media danno i numeri
Dati e Statistiche sui Social Network | infographic
I principali errori nei social media
Social media: alcuni dati in giro per il mondo
Social media is coming of age. Since the emergence of the first social media networks some two decades ago, social media has continued to evolve and offer consumers around the world new and meaningful ways to engage with the people, events and brands that matter to them. Now, years later, social media is still growing rapidly, becoming an integral part of our daily lives. Social networking is now truly a global phenomenon. This report reveals insights such as: