relationships
Get flash to fully experience Pearltrees
by Kyle O'Connor on April 29, 2009 When you're in the middle of the worst recession since the Great Depression, it's not always easy to come up with the cash to impress your date. Luckily, there's still tons of fun and romantic things you can do that take little-to-no money—all that's required is a little creativity. Here's our 67 favorite ideas for cheap dates:
D o you want to know whether he really loves you? There are so many telltale signs that will indicate your boyfriend really cares about you, but here are the top ten sure signs to check whether your relationship will stand the test of time. 1. He Looks Into Your Eyes When You Talk This sign is all about the body language. If he looks into your eyes when you talk, you know he is paying full attention to you.
A woman's life would be so much easier if a guy would just blurt out, "I like you!" It doesn't work that way though. Men sometimes send mixed signals or remain tight-lipped, that hiring a psychic seems like an attractive proposition.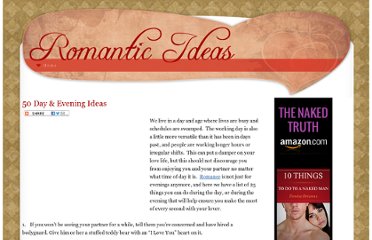 We live in a day and age where lives are busy and schedules are swamped. The working day is also a little more versatile than it has been in days past, and people are working longer hours or irregular shifts. This can put a damper on your love life, but this should not discourage you from enjoying you and your partner no matter what time of day it is. Romance is not just for evenings anymore, and here we have a list of 25 things you can do during the day, or during the evening that will help ensure you make the most of every second with your lover.